Kentucky mom says Bryan Kohberger is her 'divine masculine' and claims she sent him letters and dolled up pics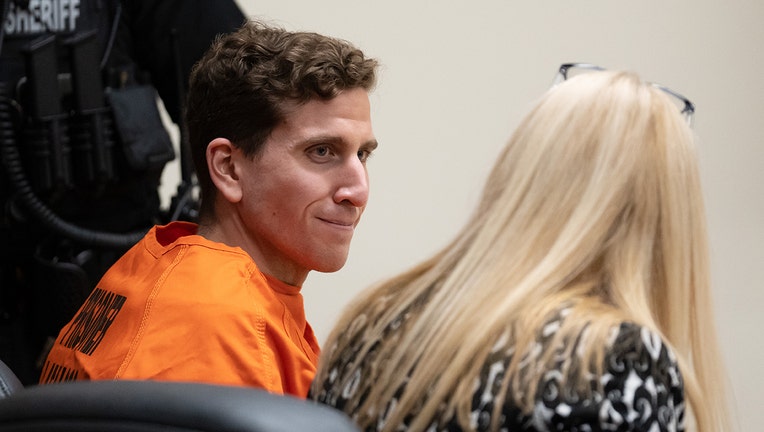 article
A single Kentucky mother posted dozens of lengthy, diary-like posts where she professes her love for Bryan Kohberger, claims to have sent him letters and pictures of herself, and calls the quadruple murder suspect her "divine masculine."
The woman, who goes by Brittney J. Hislope on Facebook and claims to have a 16-year-old son, has written about her feelings for Kohberger nearly every day, sometimes multiple times a day since early January.
"I know that the last I had heard weeks ago is that Bryan is being kept isolated from other inmates, and so I know that we do both likely sleep alone as I mentioned in a past post," Hislope wrote in her most recent post, which was dated shortly after midnight Friday. 
"Although I mentioned something about getting certain confirmations from him about his feelings and him being my divine masculine, (sic) I don't mean that I reach out to him to receive anything back at all from him, since I do that from a place of caring about him, sharing my feelings, and knowing what a serious situation he's in."
Hislope's first post was dated Jan. 4, which was five days after Kohberger was arrested in connection with the murders of four University of Idaho students: Kaylee Goncalves, 21, Madison Mogen, 21, Xana Kernodle, 20, and Ethan Chapin, 20.
She used the phrase "divine masculine counterpart" in several posts and said she knows they're meant to be together because of their astrological signs. 
Her posts are long, stream-of-consciousness-type ramblings where she defends her "love" for Kohberger that includes graphic details about how she's gone "years" without sex and searches Google for his images at night.
IDAHO MURDERS: BTK SERIAL KILLER ON SOLITARY CONFINEMENT AND BRYAN KOHBERGER, 'I KNOW HOW HE FEELS'
"There are some men that if they experienced higher intimacy levels and sexual fulfillment (sic) would never go and want to find someone else to be with in those ways, and with that said, when I'm fixated on a particular person such as my love interest who I feel is more than that to me, I don't want other men," Hislope wrote on Feb. 1. 
"I know that even if Bryan has been without sex for a significantly long time as I have, it may not be as long as me since the length of time for me is very long, as I've mentioned in past posts, but how could people not see it as sad if he's my divine masculine counters like I've thought he is…"
In a Jan. 30 post, she wrote, "To anyone that says I'm not righteous for having the feelings that I do for Bryan, I will say that you likely aren't anyone to judge me in that regard and also you may not understand my emotions and hardships and misfortunes…"
"Also to anyone that judges me negatively regarding Bryan and my feelings for him, I'll say that you may not understand certain true love connections, such as twinflames, soulmates, and divine counterparts…"
UNIVERSITY OF IDAHO MURDERS TIMELINE
In posts like the one on Jan. 27, Hislope talks about sending photos to Kohberger and how she wants her makeup to look "perfect."  
"I wish that I could send him photos of me where I've made my makeup and hair and overall self look the best that I can look versus me sending photos that I'm not looking my best," she wrote. 
Many of the comments on her page plead with her "to get help" or focus on her son. 
This woman isn't the first to confess her feelings for a suspected murderer during a highly publicized trial.
KOHBERGER'S PENNSYLVANIA CLASSMATES SAY HE WAS 'BRIGHT,' AWARKWARD, BULLIED IN SCHOOL
Jeffrey Dahmer, one of the most notorious serial killers, received letters while in jail from a "love-struck woman" that contained X-rated photos and graphic material. 
Lisa Dadio, a retired police lieutenant who teaches at the University of New Haven, told The US Sun in a previous interview that a "fascination" with serial killers always exists where people "became enamored and literally fall in love with the epitome of a bad guy."
She said it usually starts with letters saying they think the killer is innocent, then they might send x-rated pictures and it escalates from there.
"I think that there's a piece of thrill for the thrill seeker that just wants to be connected somehow or to be the girlfriend, the wife, the boyfriend of so and so to a serial killer and this whole notoriety," Dadio said. 
IDAHO MURDERS: XANA KERNODLE'S MOTHER SAYS LAWYER 'BETRAYED' HER TO DEFEND BRYAN KOHBERGER
Meanwhile, Kohberger remains in a jail in Latah County, Idaho, where he's held without bail while he awaits trial for his alleged pre-planned attack on the four college students and attempt to cover his tracks.
Latah County Magistrate Judge Megan Marshall has issued a gag order on the case, restricting comment from investigators and attorneys for both sides.
CLICK HERE TO GET THE FOX NEWS APP
Kohberger has been charged with felony burglary and four counts of first-degree murder. He could face the death penalty if convicted.
Marshall set Kohberger's preliminary hearing for the week of June 26.