Israel war: US working to confirm reports that 'several' Americans are 'among the dead,' Blinken says
Secretary of State Tony Blinken says the U.S. government is aware of multiple reports of Americans citizens being killed or taken hostage in Israel amid Hamas terrorists' ongoing attack on the country, Fox News reports. 
Blinken made the statement during a Sunday appearance on NBC News, telling host Kristen Welker that President Biden's administration is working to find the facts.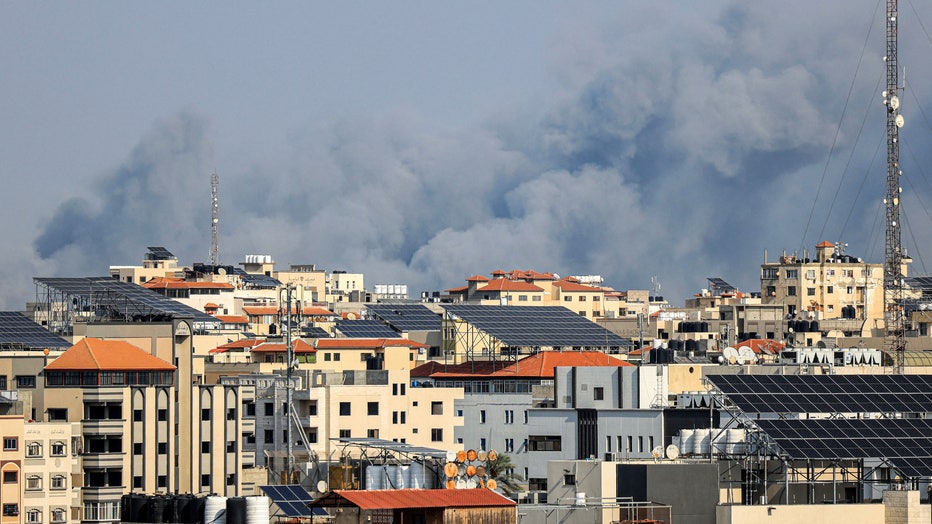 EDITORS NOTE: Graphic content / A plume of smoke rises above buildings in Gaza City during an Israeli air strike, on October 8, 2023.(Photo by MAHMUD HAMS/AFP via Getty Images)
"We have reports that several Americans may be among the dead. We are very actively working to verify those reports," Blinken said. "Similarly, we've seen reports about hostages, and there, again, we're very actively trying to verify them and nail that down."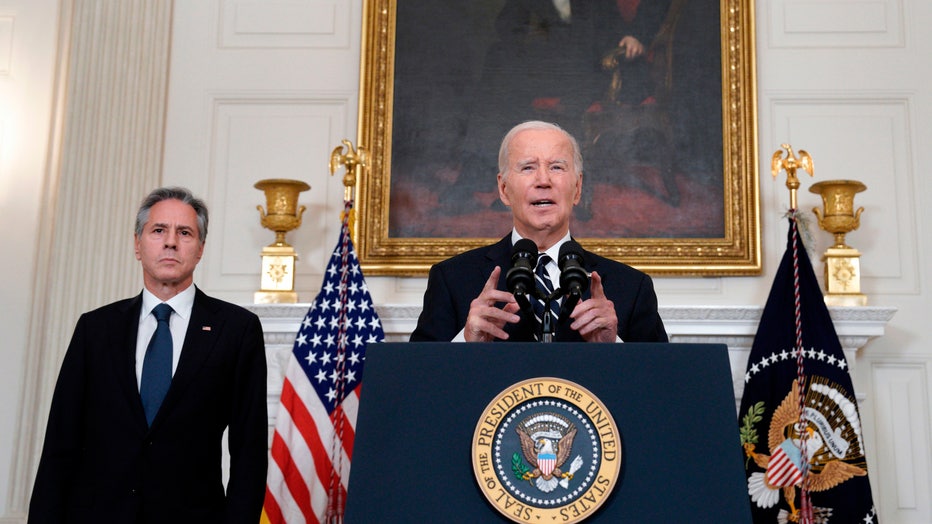 US President Joe Biden speaks in the State Dining Room of the White House in Washington, DC, US, on Saturday, Oct 7, 2023. A surprise multifront attack on Israel by the Palestinian group Hamas will likely lead to a massive military retaliation on Gaz
Unconfirmed reports have stated that individuals of multiple nationalities were among victims of Hamas killed at a music festival in southern Israel near the Gaza border. Witnesses of the attack say Hamas gunman opened fire on a crowd of hundreds, though casualty reports from the festival have yet to be verified.
Fox News Digital has reached out to the State Department for more information on potential American victims in Israel.
Later Sunday, The Pentagon ordered the Ford carrier strike group to sail to the Eastern Mediterranean to be ready to assist Israel, two U.S. officials said. 
The USS Gerald R. Ford and its approximately 5,000 sailors and deck of warplanes will be accompanied by cruisers and destroyers in a show of force that is meant to be ready to respond to anything, from possibly interdicting additional weapons from reaching Hamas and conducting surveillance.
At least 600 people have reportedly been killed in Israel — a staggering toll on a scale the country has not experienced in decades — and more than 300 have been killed in Gaza.
READ MORE: Israel battles Hamas for second day, formally declares war for first time since 1973
The militants also took captives back into the coastal Gaza enclave, including women, children and the elderly, whom they will likely try to trade for thousands of Palestinian prisoners held by Israel.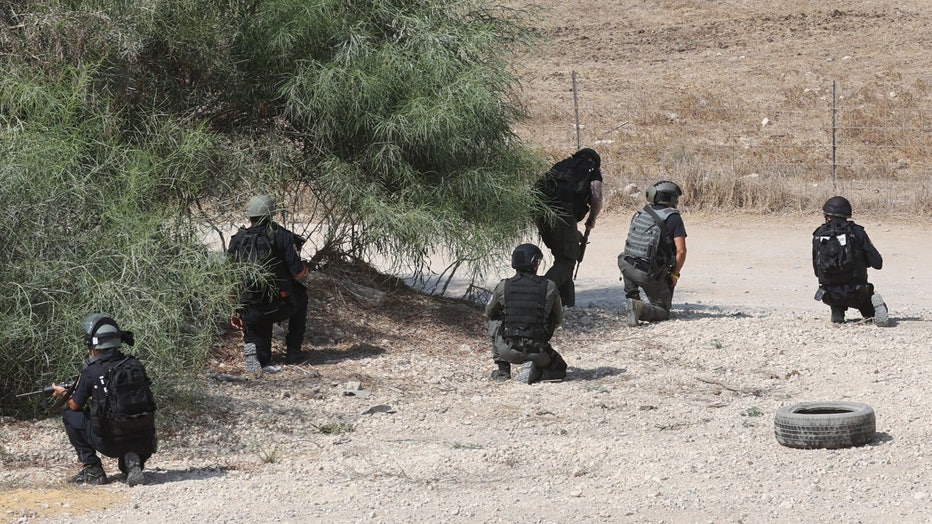 Israeli forces, dispatched to the border with Gaza in southern Israel, scan the area near Ashdod on October 8, 2023 as the battle against holdout Hamas fighters continues. (Photo by GIL COHEN-MAGEN/AFP via Getty Images)
Israeli Prime Minister Benjamin Netanyahu said the country was at war and would exact a heavy price from its enemies. His Security Cabinet officially declared the country at war in an announcement on Sunday, saying the decision formally authorizes "the taking of significant military steps."
Robby Berman, a tour guide and author who lives in Tel Aviv, Israel, sat down with LiveNow from FOX's Josh Breslow to describe what he's seeing. He said he and his girlfriend awoke Saturday to a missile landing in front of his building.
"It is unbelievable. This truly is an act of war," Berman said. "When I say dead, I mean children. I mean old people. An 8-year-old kid just phoned his aunt saying mommy and daddy is dead on the floor. There's blood … What am I supposed to do? There's no one coming here. There's no one answering the phone.
"I just can't bring home how barbaric it is," Berman continued. "This is war with a focus on trying to kill civilians … killing babies, octogenarians, women. It's just obscene … How is this going to bring them any closer to their goal, whatever their goal might be? Whether the goal is to destroy Israel, whether occupation, they're not getting closer to their goals."
The Associated Press and Fox News contributed to this report.