I-35W Project: Weekend closure between I-94 & Highway 62 starts June 1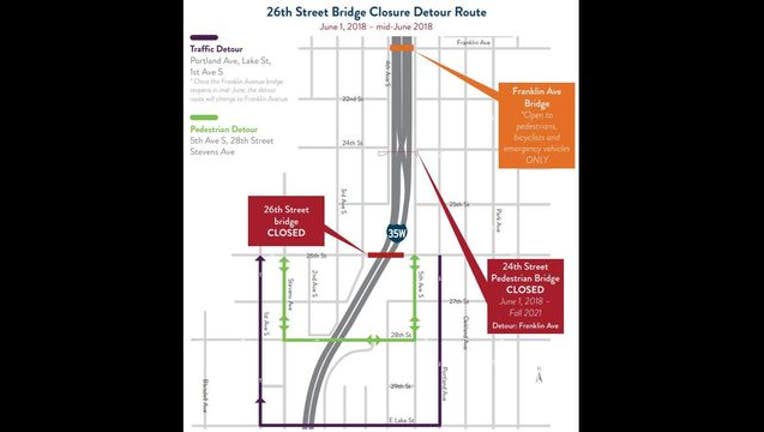 article
MINNEAPOLIS (KMSP) - Interstate 35W will close in both directions between Interstate 94 and Highway 62 in Minneapolis, beginning at 10 p.m. Friday, June 1, as crews demolish the 26th Street bridge. However, southbound I-35W will be open to traffic south of 46th Street.
According to the Minnesota Department of Transportation, crews will begin closing the on and off ramps for I-35W about an hour before closing the interstate. 
Drivers will have to use Interstate 394, Highway 100 and Highway 62 instead. I-35W will reopen to traffic by 5 a.m. Monday, June 4. 
The 26th Street bridge over I-35W will close beginning at 6 p.m., Friday, June 1 for reconstruction. The new 26th Street bridge is expected to open in mid-November 2018.
The Franklin Avenue bridge will reopen to pedestrians, bicyclists and emergency vehicles June 1, but will remain closed to drivers until mid-June.