Hopkins teen struck by vehicle, killed on Hwy 7 near Knollwood Mall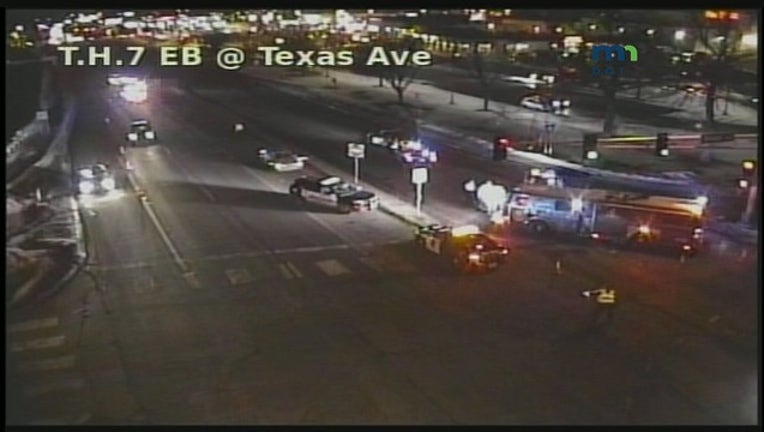 article
ST. LOUIS PARK, Minn. (KMSP) - The Minnesota State Patrol has identified the pedestrian fatally struck by a vehicle on Highway 7 near Knollwood Mall as 15-year-old Daunte Jamal Moore of Hopkins.
The crash happened at 6:18 p.m. Thursday, Feb. 15 at the intersection of Texas Ave North and Highway 7. According to the preliminary incident report, an Acura MDX was headed westbound on Highway 7 and went through a green light at Texas Ave. After passing through the intersection, the vehicle struck the teenager, who was in the left lane. The impact caused Moore to go into the eastbound lane where he was struck by BMW 330I.
Moore was ninth grader at West Junior High in Hopkins. 
No one else was injured in the crash. Alcohol is not believed to be a factor in the crash. Highway 7 in that area was closed for about two hours.
The crash remains under investigation by the Minnesota State Patrol.
Hopkins Public Schools statement 
Hopkins Public Schools learned that Daunte Moore, a ninth-grader at West Junior High, was hit and killed by a car last night on highway 7. As a district, and as a school community, we are extremely sad about this tragic loss. This news has understandably caused many emotions for our students and staff. Grief counselors are available to all students and staff who are struggling. Our thoughts are with the Moore family during this difficult time.  
Help with funeral expenses
A GoFundMe account has been established to help the Moore family with funeral expenses. You can donate at https://www.gofundme.com/562prfc