High heat advisory in effect for Twin Cities metro into Friday evening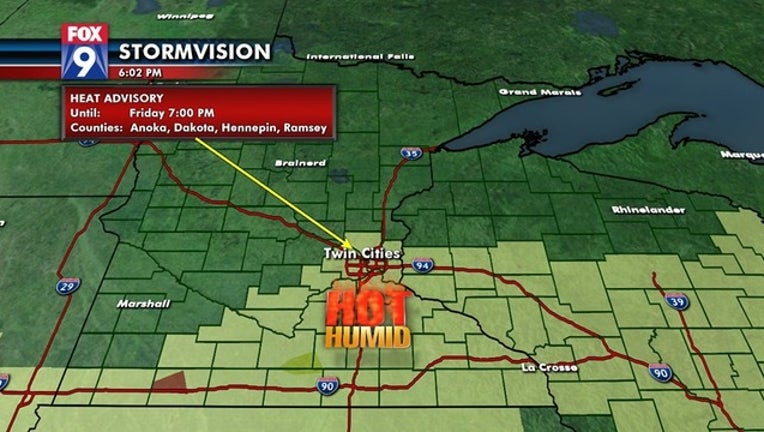 article
EDEN PRAIRIE, Minn. (FOX 9) - A high heat advisory is in effect for the Twin Cities metro area until Friday evening. The counties under the advisory include Anoka, Dakota, Hennepin and Ramsey counties.
Temperatures are expected to go into the 90s with high dew points in the 70s. A major heatwave will be expanding to more than 30 states through the weekend.
A triple-digit heat index can be dangerous, especially for the elderly and young children. 
During high heat, officials urge people to stay in cool or air-conditioned spaces.
For a map of cooling centers in Hennepin County, click here. For information on cooling centers in Ramsey County, click here.
The heat comes as a big concert is set for this weekend in the metro. Thursday was night one of the first-ever Twin Cities Summer Jam, a new festival set to feature big names in country and rock music at Canterbury Park in Shakopee.
Acts including Aerosmith, Buckcherry, Tim McGraw, and Pitbull will perform throughout the weekend. But, concert promoters say they are prepared for the heat and have plenty of indoor space for the shows.
"If you were to go inside right now, you'd see three to four thousand people in the air conditioning," said Summer Jam CEO Jerry Braam, referring to Thursday's shows. "Hanging out, getting beverages... They come back out for a while, some stay out all the time. Again, it's Minnesota but it's only a short walk to an air-conditioned venue."
Along with the cool space, concert officials say they have plenty of paramedics on-hand, along with police, firefighters, and a first aid tent.
The festival continues Friday, Saturday, and Sunday.