Mountain Dew Baja Blast Hot Sauce: Here's how you can win an exclusive bottle
article
Calling all Baja Blast fans. 
Have you ever wished you could pour a spicy sauce version of your beloved Mountain Dew Baja Blast all over your food? Never thought about it? Well, Mountain Dew has you covered. 
Mountain Dew announced on Thursday that fans can get a chance to win a free bottle of its latest concoction: Baja Blast Hot Sauce. 
In partnership with Houston's own James "Hot Sauce Boss" Beck, owner of the famous sauce shop, iBurn, Mountain Dew is giving their Baja Blast fans another medium to enjoy the tangy flavors of their famous blue drink.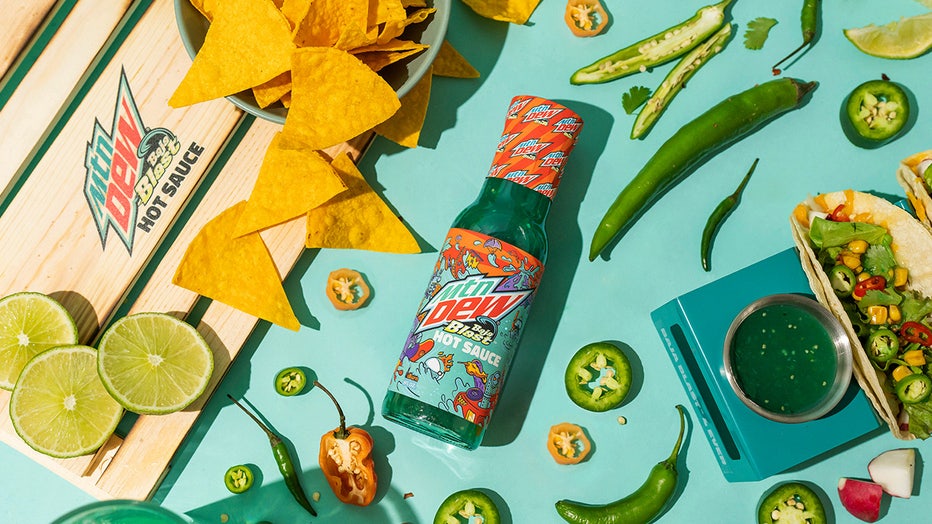 Mountain Dew Baja Blast Hot Sauce bottle. (Mountain Dew)
The Baja Blast Hot Sauce features the beloved tropical lime flavor similar to the soda, married with a spicy medley of tomatillos, habanero peppers, green chiles and jalapeño peppers. 
Here's how to enter the sweepstakes
To enter to win a bottle of this sauce, all you have to do is visit the Mountain Dew Baja Blast Hot Sauce website, here. 
Once you get to the website, pick one of four images telling Mountain Dew how you plan to enjoy its newest hot sauce. The options are a breakfast sandwich, a burrito, tacos or chicken wings. 
After you've selected your food option, you will be prompted to enter information such as a birthday, email, phone number and home address (so they know where to send the sauce if you win). 
For the last step, you will then have the option to share any of your social media handles. 
That's it!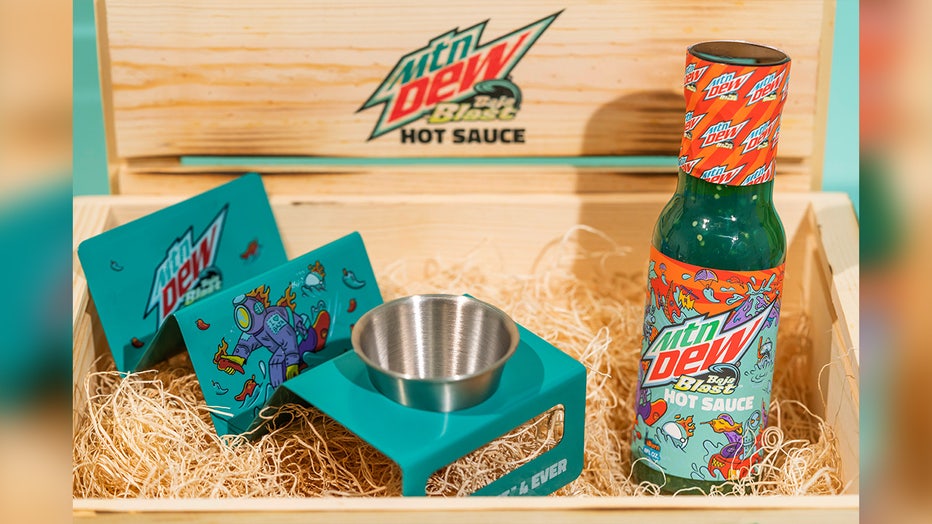 Mountain Dew Baja Blast Hot Sauce next to a taco serving dish and sauce cup. (Mountain Dew)
The sweepstakes takes place beginning Jan. 19 and will end on Feb. 8. Winners of the sweepstakes will be contacted through email. 
Only 750 bottles were made so you better act fast to taste this exclusive batch of sauces. 
For more information on the rules, click here. 
RELATED: Mountain Dew Fruit Quake puts a spin on holiday classic
This story was reported from Los Angeles.