Here's how you can score free gear if your baby is born on Super Bowl Sunday
PHILADELPHIA - For some people, the Super Bowl won't be the biggest thing happening Sunday. 
In honor of Kylie Kelce, the very pregnant wife of Eagles center Jason Kelce, a baby gear company is offering a reward for all "Most Valuable Pushers" who give birth on Feb. 12.
Frida, the popular baby product brand, has officially sponsored Kylie Kelce as the Super Bowl LVII's real MVP or "Most Valuable Pusher." That's because Kylie will be approaching her own football-sized battle as she becomes a mom for the third time. 
By the time the big game rolls around, Kylie will be 38 weeks pregnant, according to Jason. In fact, Kylie's due date is so close that she is bringing her OBGYN as her plus-one to the game — just in case she goes into labor, because there is no offseason when you're a mother.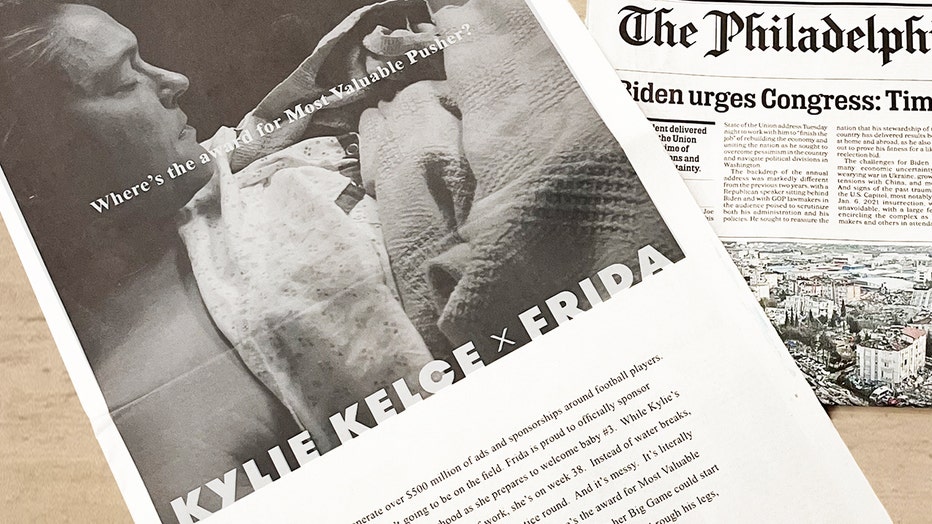 Frida dedicated a full-page ad in the Sports section of the Philadelphia Inquirer to Kylie Kelce. (Credit: Frida)
To support all the women, not just Kylie, who are bringing babies into the world on Sunday, Frida announced it will stock these MVPs with Frida Mom and Frida Baby gear needed to tackle the biggest game: motherhood.
Mamas can email biggamebaby@frida.com with proof of birth on Sunday, February 12, 2023 and a shipping address, and Frida will stock these MVPs with the tools to start their season of motherhood. 
On Wednesday, the company dedicated a full-page ad in the Sports section of the Philadelphia Inquirer to its MVP to wish her luck in her final push. The featured photo, taken during her second child's birth, shows Kylie focused while performing one of the greatest physical feats.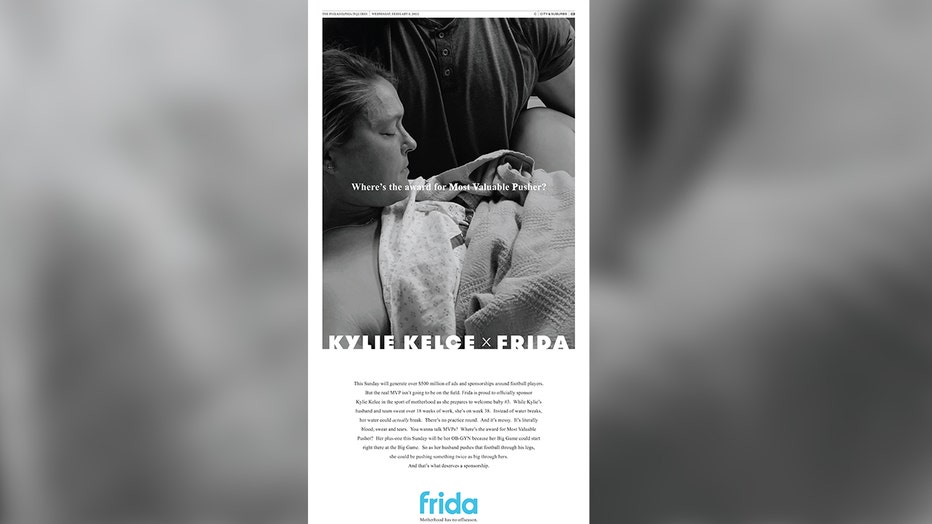 Picture of the full page ad publishe Feb. 8, 2023 (Credit: Frida)
"This Sunday will generate over $500 million of ads and sponsorships around football players. But the real MVP isn't going to be on the field," the ad reads. "Frida is proud to officially sponsor Kylie Kelce in the sport of motherhood as she prepares to welcome baby #3." 
Kyle will be documenting the before and after journey alongside the brand, which prepares parents for the realities of pregnancy, postpartum and parenthood with popular mom and baby products.
The ad continued: "So as her husband pushes that football through his legs, she could be pushing something twice as big through hers. And that's what deserves a sponsorship." 
RELATED: Eagles center Jason Kelce and his pregnant wife are bringing her OB-GYN to the Super Bowl
Meanwhile, the big game is shaping up to be a large family affair with Jason and Travis Kelce set to become the first brothers to face one another in the Super Bowl. Jason's Eagles will take on Travis and the Chiefs on Sunday, Feb. 12. 
And while it may seems unlikely that a player's wife gives birth on Super Bowl Sunday — think again. It happened just last year. 
In 2022, Los Angeles Rams' Van Jefferson had himself a Sunday he and his family would never forget, when his wife, Samaria, went into labor in the middle of Super Bowl LVI at SoFi Stadium. 
RELATED: Rams WR Van Jefferson's wife rushed to hospital after going into labor during Super Bowl LVI
Following the Rams' 23-20 Super Bowl victory over the Cincinnati Bengals, the 25-year-old wide receiver reportedly grabbed his daughter as she and Van Jefferson's father Sean Jefferson came into the field and then rushed out of SoFi Stadium to head to the hospital, according to The Athletic's Jourdan Rodrigue. 
The Rams' receiver later shared the exciting news on social media that the couple had welcomed their second child.
This story was reported from Los Angeles.