Gov. Dayton: Minnesota to receive federal aid in flooding, storm damage relief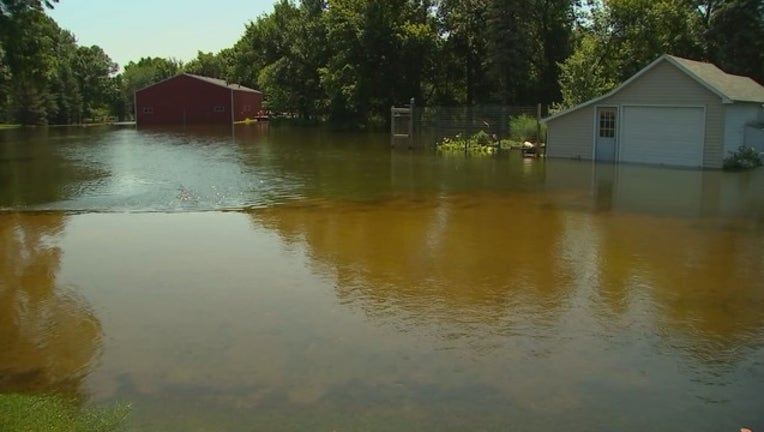 article
(KMSP) - Governor Dayton announced Wednesday that he has secured a Major Disaster Declaration that will provide federal funds to aid in emergency relief for 27 counties and three tribal nations in Minnesota.
According to the Governor's Office, Gov. Dayton sent a letter to President Donald Trump last month requesting the declaration after communities around the state were impacted by severe storms and flooding between June 15 and July 12, 2018.
The White House issued a news release Wednesday announcing the federal government's Major Disaster Declaration.
The Federal Emergency Management Agency authorized the use of federal public assistance funds to supplement state and local recovery efforts in areas affected by recent severe storms. Under legislation signed by Governor Dayton in 2014, the State of Minnesota will deliver aid for the 25 percent non-federal share.
After this summer's severe weather and flooding, Gov. Dayton visited eight affected counties with Minnesota Homeland Security and Emergency Management Director Joe Kelly and Minnesota Department of Agriculture Commissioner Dave Frederickson. The group then surveyed damage and coordinated the state's response efforts with local officials.
The governor then directed the Minnesota Department of Public Safety to immediately begin preliminary damage assessments.
Minnesota counties and Tribal Nations covered under the Major Disaster Declaration include: Aitkin, Beltrami, Blue Earth, Brown, Carlton, Cass, Clearwater, Cottonwood, Faribault, Itasca, Jackson, Koochiching, Lake, Lyon, Martin, Murray, Nicollet, Nobles, Pine, Pipestone, Polk, Redwood, Renville, Rock, St. Louis, Sibley, and Watonwan Counties, as well as the Leech Lake Band of Ojibwe, Red Lake Nation, and White Earth Nation.
The aid provided to the counties will include Public Assistance Aid, the Hazard Mitigation Grant Program and Small Business Administration Aid.
Public Assistance Aid includes financial assistance for the immediate emergency work accomplished within the community, and repairs or replacements of disaster-damaged facilities.
The Hazard Mitigation Grant Program involves assistance for actions taken to prevent or reduce long-term risk to life and property from natural hazards. All counties in Minnesota are eligible to apply for assistance under the Hazard Mitigation Grant Program.
Also, on August 29, 2018, the Small Business Administration authorized a disaster declaration for Lyon and Redwood counties, where at least 25 homes and businesses suffered uninsured losses of more than 40 percent of their estimated fair market value. As a result, residents in Lyon and Redwood counties, as well as the contiguous counties of Yellow Medicine, Lincoln, Pipestone, Murray, Cottonwood, Brown and Renville, will be eligible for low-interest loans to help with uninsured or underinsured losses from the declared disaster.
Statements from Minnesota lawmakers:
"This relief is greatly needed in communities all across Minnesota. I saw firsthand the damage caused by heavy rains and flash floods across the state earlier this summer. Today's disaster declaration will help communities repair the damage to roads, bridges, and critical infrastructure." - Sen. Amy Klobuchar 
"After touring several counties that suffered major storm damage this summer, I'm glad the Administration answered our call to release federal assistance to help Minnesota communities recover. I will continue to push to get this assistance out to eligible areas as quickly as possible." - Sen. Tina Smith
"This disaster declaration is necessary to help our communities hit hard by storms and flooding over the summer recover," - Rep. Tim Walz 
"It's clear from our travels throughout the 8th district that the severe summer storms caused significant damage – affecting homes, businesses, and lively hoods. That's why this disaster declaration is so important to help Minnesotan's recover and get on with their lives." - Rep. Richard Nolan