Parents donate late infant son's organs to save lives: 'We don't want nobody to feel this pain'
Judge Theo Pollock died at 4 months old, but his parents donated his organs to help save lives.  (Courtney Pollock)
CLIMAX, Ga. - A Georgia couple hopes to save other children's lives by donating the organs of their infant son, who passed earlier this month. 
Courtney and Tyler Pollock of Climax lost their 4-month-old son, Judge Theo, on October 14. He was the youngest of five children. 
"He went to sleep and didn't wake up," Courtney told FOX Television Stations. "They're not sure if it was SIDS."
RELATED: So-called toddler milks are unregulated and unnecessary, pediatrician group says
Courtney said her son did rollover onto his stomach at one point, and she doesn't know if he accidentally suffocated himself. He also recently recovered from having respiratory syncytial virus (RSV). 
The parents said they're awaiting an autopsy report to learn the cause of death.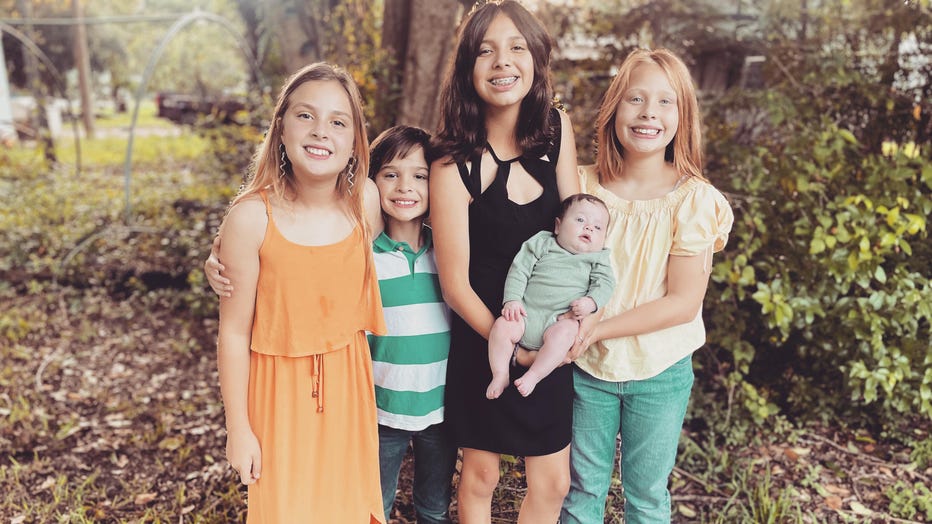 Theo with his siblings. (Credit: Courtney Pollock)
Shortly after their son's death, the parents were asked if they wanted to donate Theo's heart valves which would go to two recipients. 
"They explained to us that there's children that don't survive the first year without these heart valves," Courtney explained. 
After a quick roller coaster of emotions, the couple decided that they wanted to donate Theo's organs. 
RELATED: Kansas couple, both 96, ties the knot after meeting in senior living center
"We haven't fully wrapped our mind around why this is the route God chose, but he [Theo] is making a difference for those two babies and their families," Tyler added. "And then there are people who are struggling just to have their first child. And we don't want nobody to feel this pain. We don't wish on nobody because it is a horrible, horrible feeling."
The couple said it will take a few weeks to know if the organ transplants were successful, and they also hope the recipients will reach out to them afterward. 
Though Theo only lived for a little more than four months, his parents said it was an absolute joy getting to know him. 
RELATED: Couple welcomes rare 'spontaneous triplets,' a one-in-a-million blessing
"He was the light of our house," Courtney said, adding that he was a "momma's boy." 
"We didn't anticipate losing our son. So every day we had with him was a new day for us," she continued. "He brought us so much joy. He made us feel like that our family was complete. He laughed all the time. He loved bath time. He loved being outside. He loved looking at the sky." 
"He deserves to be in heaven," she added. "A great big comfort to know that he went to sleep and woke up with Jesus. It brings me comfort to know that."
Theo's parents hope to use their tragedy to shine a light on the importance of pediatric organ donations. According to Donate Life America, more than 500 children waiting for a donor organ are between one and five years old.
This story was reported from Los Angeles.