Pet 7-foot gator removed from Texas home
BUDA, Texas - Texas Game Wardens and zoo staff captured and removed a 7-foot-long alligator from a Texas home. The woman raised it as a pet.
A neighbor of the Buda, Texas "pet" owner reported the illegal animal, according to Texas Parks and Wildlife. A Texas Game Warden and 2 zoo staff captured the feisty creature and rehomed it at the Animal World and Snake Farm Zoo.
"Alligators don't make good pets, y'all," the wardens posted on Facebook with video of the three struggling to place the gator into a trailer for transport.
It turns out the alligator was not being rehomed, but returning home. The woman took the alligator from the zoo over 20 years ago.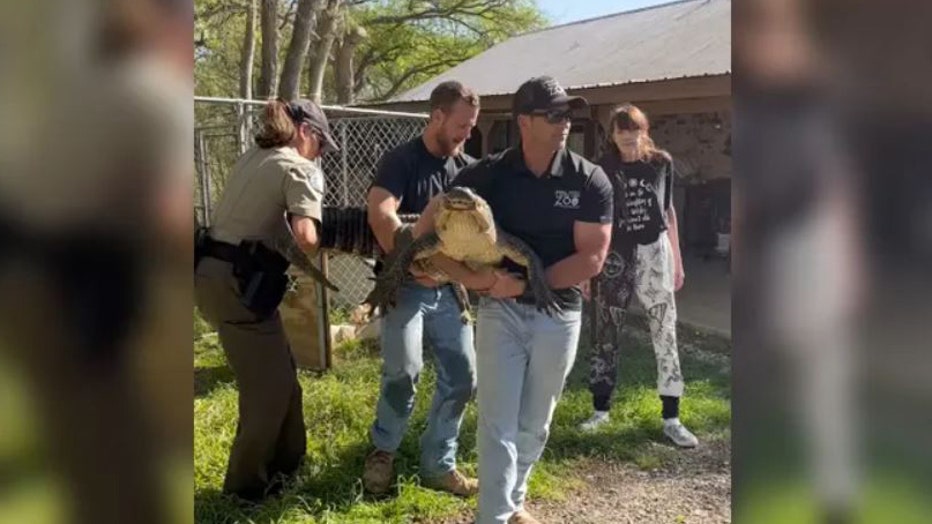 A Texas Game Warden and zoo staff members remove an alligator from a woman's backyard while she looks on. (Texas Game Wardens / FOX Weather)
"Interesting part of the story is evidently they were a volunteer here actually at Animal World and Snake Farm way back then decades ago," explained a member of the zoo staff on a Facebook post. 
"And apparently she stole this alligator, either the egg or the hatchling alligator at the time, put it in their pocket and took off and actually kept this thing as a pet for at least 20 years," he continued.
The homeowner raised the toothy pet in her backyard for 2 decades. The lethal pet grew to over 7-feet long in the neighborhood.
Unfortunately, under Texas law, "no person may take, sell, purchase, or possess an alligator, alligator egg, or any part of an alligator without a permit."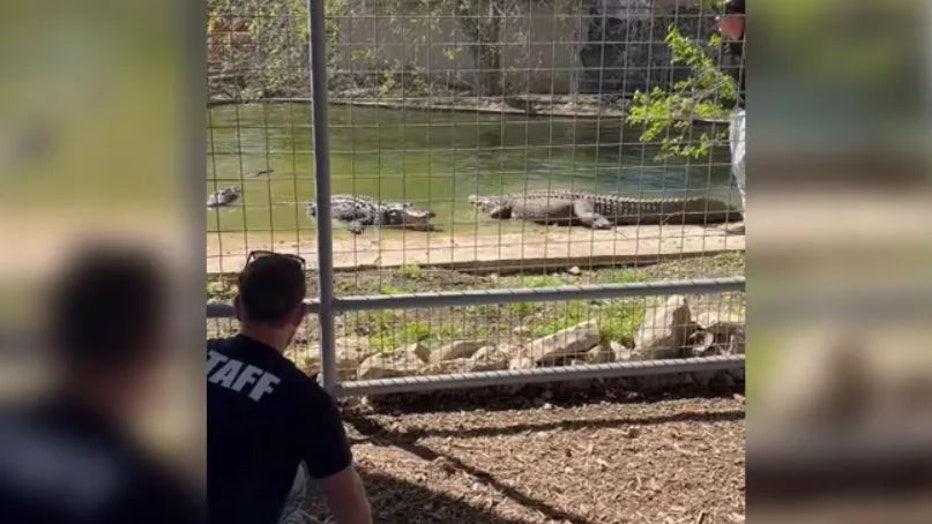 The gator raised as a pet now calls the zoo her forever home. (Texas Game Wardens / FOX Weather)
"Once Texas Wildlife found out that she had it, and she was unable to meet the requirements to obtain this permit, they looked for someone who could take it in," explained the zoo staff member. "And being that technically, we are the rightful owners of that alligator. We were their first phone call."
The zoo staff said that they introduced the returning lady gator to the rest of her new roommates, and she appears to be settling in. She will live there the rest of her life.
While the zoo is open to visitors, it is unknown if the Texas woman will be allowed in to visit her former pet.