Gas prices could spike after Saudi Arabia oil production cut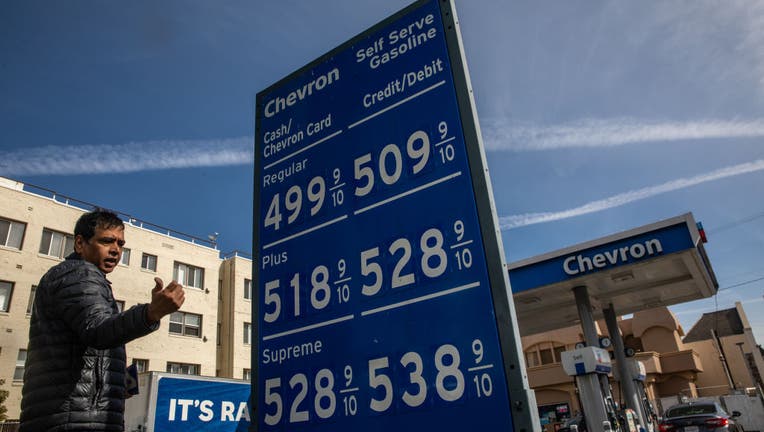 article
U.S. gas prices could soon rise after Saudi Arabia's decision to cut oil production by 1 million barrels a day.
According to AAA, drivers are currently paying an average of $3.55 for a gallon of regular gasoline. That is more than $1 lower than a year ago.
Patrick De Haan, GasBuddy's head of petroleum analysis, said oil prices could rally due to production cuts and push gasoline prices higher as early as mid-week. 
OIL PRICES COULD SOAR HIGHER AS RUSSIA, OTHERS SHRUG OFF CRITICISM FROM BIDEN ADMINISTRATION
"How long any rise in gas prices lasts is up in the air, but I do not yet believe motorists need to be worried," he said. "Any rise in average prices should be fairly small, and we're still extremely unlikely to make a run at record prices anytime soon."
Saudi Arabia announced Sunday that it would reduce oil production to 9 million barrels per day in July from 10 million barrels per day in May.
The voluntary cut is on top of a broader deal by the Organization of the Petroleum Exporting Countries (OPEC) and allies including Russia to limit supply into 2024 as the OPEC+ producer group seeks to boost flagging oil prices.
"This is a Saudi lollipop," Saudi Energy Minister Prince Abdulaziz told a news conference. "We wanted to ice the cake. We always want to add suspense. We don't want people to try to predict what we do... This market needs stabilization."
AAA CAUTIONS OVER GAS PRICES: OIL MARKET DISRUPTORS 'ALWAYS LURKING'
OPEC+ pumps about 40% of the world's crude and has cut its output target by a total of 3.66 million bpd, amounting to 3.6% of global demand, including 2 million bpd agreed last year and voluntary cuts of 1.66 million bpd agreed in April.
GET FOX BUSINESS ON THE GO BY CLICKING HERE
Meanwhile, OPEC, including Russia, agreed over the weekend to slash its overall production goals by 1.4 million barrels per day.
Reuters contributed to this report. Read more of this story from FOX Business.