Jennifer Carnahan announces run for Congress to fill late husband Hagedorn's seat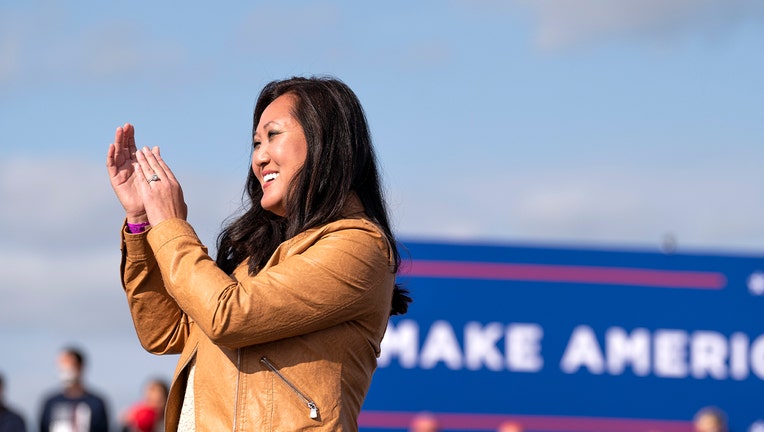 article
(FOX 9) - Jennifer Carnahan, the former chairwoman of the Republican Party of Minnesota who resigned under pressure last summer, is running for the southern Minnesota congressional seat last occupied by her late husband Jim Hagedorn.
"Before he passed, it was one of his wishes that I fulfill his legacy and complete his term," Carnahan told reporters outside the Secretary of State's office in St. Paul, while she filed her statement of candidacy for the First Congressional District. "I want to complete that promise that I made to my husband to keep this district in conservative hands."
Carnahan has the most name recognition of the nine Republican candidates contesting the May 24 primary. She was the first Asian American woman to run either major party in Minnesota, serving as the state's Republican Party chair from 2017-2021. Over that time, Republicans gained three congressional seats in rural Minnesota but lost two suburban seats to Democrats.
Her tenure ended in controversy in the aftermath of the arrest of her friend and major donor Tony Lazzaro on child sex trafficking charges last August. Carnahan denied "knowledge or involvement" in Lazzaro's alleged crimes. Lazzaro attended Carnahan and Hagedorn's wedding and co-hosted a political podcast with the party chair.
With Carnahan's position under threat, several former party staffers came forward with allegations that, under her leadership, the state party had become a toxic workplace, with pervasive verbal abuse, intimidation and sexual harassment. Among Carnahan's toughest critics were four Minnesota GOP executive directors who served with Carnahan.
Carnahan held to power for several days while her support on the Minnesota GOP's executive board eroded. Then, she cast the deciding vote to give herself a $38,000 severance, clearing the way for her resignation.
On Monday, Carnahan referred to Lazzaro as "a donor that gave money to the party that did some bad things" and said she had been treated unfairly for her previous association with him.
"The question that no one ever asked over time was, why was I being singled out for that?" she said. "There were other Republicans, candidates, elected leaders, Republican organizations and even national leaders from right here in Minnesota that took money from this donor, and there was completely a double standard."
The First Congressional District will have a series of elections this year. A special primary is scheduled for May 24 primary, with the general election occurring on Aug. 9. The winner will fill the rest of Hagedorn's term, which runs through the end of this year. Another election will happen in November for the next term.
Carnahan is the 16th candidate candidate to file for the special election. State Rep. Jeremy Munson and former state Rep. Brad Finstad are also running on the Republican side.
On the Democratic side, former Hormel chief executive Jeff Ettinger has filed to run. So too has Richard Painter, a former White House ethics lawyer in President George W. Bush's administration.
Democrats pointed to the way Carnahan left the Minnesota GOP, echoing her critics in the Republican party.
"Jennifer Carnahan's leadership ability has been entirely discredited by those who worked most closely with her," Minnesota DFL Chairman Ken Martin said in an emailed statement. "It is clear that Carnahan has no business serving in any elected office whatsoever."
Larry Jacobs, a University of Minnesota political science professor, said Carnahan is the frontrunner in the nine-member GOP primary. The big question is whether Republicans come out against her candidacy, he said.
"Jennifer Carnahan is both a big name and a big liability for the Republican Party," Jacobs said in an interview. "Will there be a significant mobilization because they don't want Jennifer Carnahan on the ticket to create an easy target for Democrats come November?"
Several of the 16 candidates, including Carnahan, did not write their addresses on their statements of candidacy. Carnahan, who previously lived in St. Louis Park, now lives in Blue Earth, her campaign spokesman said.
Members of Congress do not have to live in the districts they represent.
In her announcement, Carnahan highlighted her support for former President Donald Trump, who targeted Minnesota in 2020 but lost to President Joe Biden.
"I put my heart and soul into this party," she said.