FDA warns JUUL about unauthorized marketing to students in letter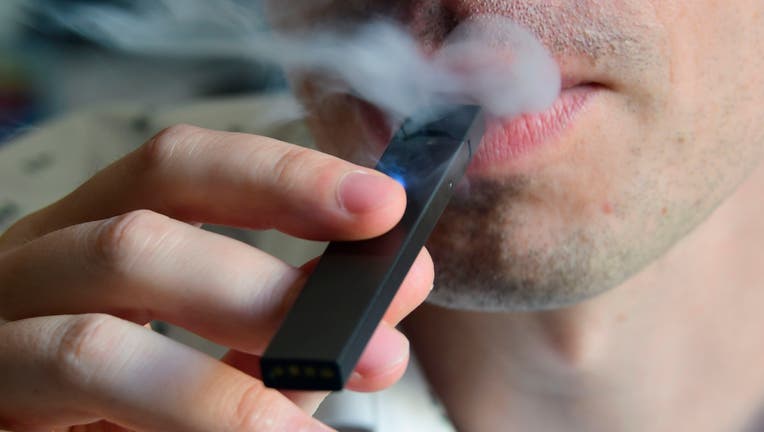 article
(FOX 9) - Monday, the FDA warned the e-cigarette manufacturer JUUL Labs for unauthorized marketing practices, including presenting to youth.
The FDA says the warning letter was for marketing "unauthorized modified risk tobacco products by engaging in labeling, advertising, and/or other activities directed to consumers."
That behavior included a presentation given to kids at a school.
The agency sent a letter to JUUL expressing those concerns and seeking more information about issues that came to light at a recent Congressional hearing about JUUL's marketing practices. At issue in the hearings were JUUL's outreach efforts to students, tribes, health insurers and employers.
"Regardless of where products like e-cigarettes fall on the continuum of tobacco product risk, the law is clear that, before marketing tobacco products for reduced risk, companies must demonstrate with scientific evidence that their specific product does in fact pose less risk or is less harmful. JUUL has ignored the law, and very concerningly, has made some of these statements in school to our nation's youth," said Acting FDA Commissioner Ned Sharpless, M.D.
The FDA warning comes amid at least five deaths believed to be linked to vaping, including one in Minnesota. 
The recent outbreak of lung illnesses mostly involves people who vaped marijuana. While the president of the Midwest Vapor Coalition agrees with the regulations, he says lifelong smokers trying to quit need to be kept in mind, too. 
Cap O'Rourke is the President of the MVC, and he isn't surprised the FDA is blasting JUUL for illegally pitching its e-cigarettes as a "safer alternative to smoking." 
"We have to make sure we're keeping these products out of the hands of kids and out of the hands of non-smokers," O'Rourke said. 
In a series of warning letters, the FDA has also asked JUUL to turn over documents about its marketing and education programs. The company now has 15 days to respond with a plan to fix the problem. 
In a statement to FOX 9, JUUL said, "We're reviewing the letters and will fully cooperate." 
With more than 100 vape shops across the region, O'Rourke says any restriction shoudn't shift to e-cigarette prohibition. 
"We have to make sure we're keeping these products out of the hands of kids and out of the hands of non-smokers," O'Rourke added. "But I still want to make sure we're giving adults who've sought an alternative to smoking a reasonable chance." 
Otherwise, O'Rourke worries a proven problem could gain renewed steam. 
"The real concern is that you're sending those people right back to smoking," he said. "An addiction that we know will kill you."