Emotional moment captured in photo as officer lays with dying horse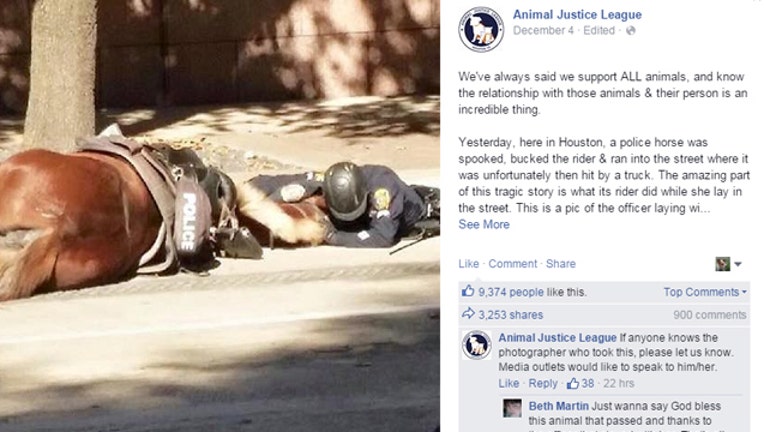 article
On December 5th the Animal Justice League of Houston posted this dramatic photo to their facebook page.
We've always said we support ALL animals, and know the relationship with those animals & their person is an incredible thing.
Yesterday, here in Houston, a police horse was spooked, bucked the rider & ran into the street where it was unfortunately then hit by a truck. The amazing part of this tragic story is what its rider did while she lay in the street. This is a pic of the officer laying with her while she took her last breath.
We admire the heart & strength of this officer because as you know, when you lose an animal, to be with them during their last breath is a heartbreaking & tough thing to do. Thank you to him for loving his partner & friend until the end. Our hearts go out to him & the HPD family.
Days before the Houston Police Department shared the following message on Facebook.
It is with heavy hearts that we announce the death of Charlotte, an HPD Mounted Patrol horse, who died in the line of duty this morning in a motor vehicle accident. This is an ongoing investigation, but the driver of the vehicle is not believed to be at-fault. Her rider, Officer D. Herrejon, was taken to the hospital as a precaution, but is doing well.
Charlotte came to HPD as an unstarted 2-year old Tennessee Walker from Oklahoma. She thrived in HPD Mounted Patrol's barefoot and natural horsemanship programs. She passed her evaluation period with flying colors and was working the streets of Downtown Houston within a short time of being started under saddle. She loved her job and was always ready to go to work putting bad guys in jail or giving nuzzles to children. She served the citizens of Houston for 4 years.
She will be missed.