I-94 reopens in Monticello after crews fight fires from 29-vehicle crash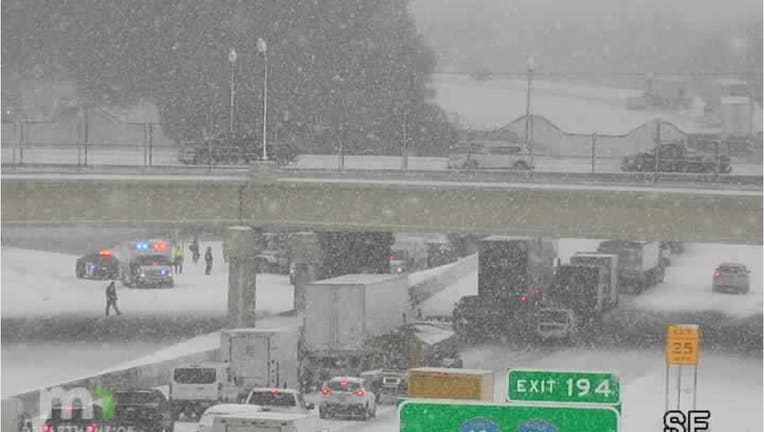 MONTICELLO, Minn. (FOX 9) - The westbound lanes of I-94 were closed for hours on Thursday after a crash involving 29 vehicles near Monticello before reopening just after 6:30 p.m. The eastbound lanes reopened around 1:30 p.m.
The Minnesota State Patrol says about half of the vehicles in the crash were semis. Visible smoke and fire could be seen in videos and photos of the scene Thursday morning. Crews were still fighting the fires nearly 5 hours after the initial crash which occured around 9:15 a.m.
According to MnDOT, the crash was reported between Wright County Road 19 and County Road 18 near Monticello. At the time of the crash, a heavy band of snow went through the area, limiting visibility. 
Nine people were hospitalized with minor injuries, the State Patrol says. 
Statewide, 125 crashes, 83 spinouts and three jackknifed semis were reported by the Minnesota State Patrol Thursday between 7 a.m. and 4:30 p.m. There were 13 injuries reported in those crashes, including two serious injuries. One of the serious injuries was in Nicollet County and another was in Eden Prairie. No deaths were reported. 
Traffic cameras showed a vehicle emitting large amounts of black smoke after the reported crash.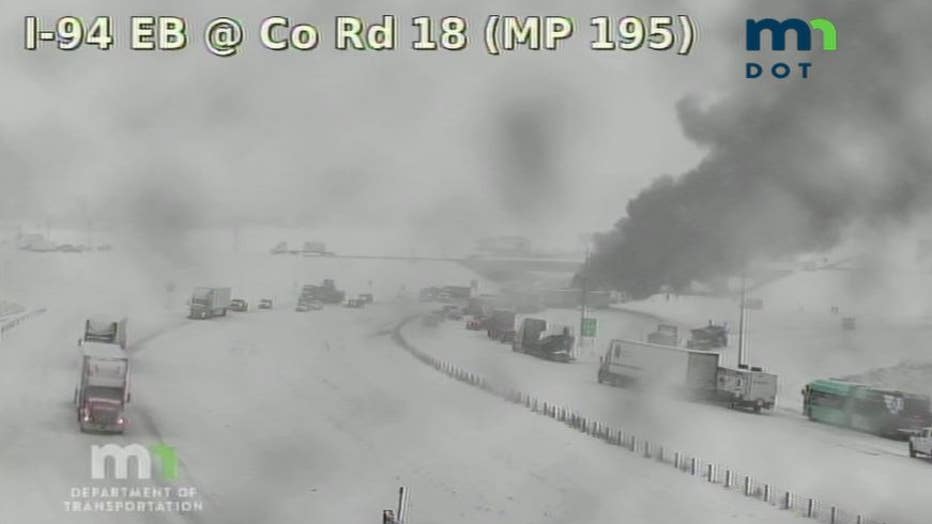 Black smoke was seen on traffic cameras emitting from a vehicle after a crash on I-94 Thursday morning. (MnDOT)
The State Patrol said roads were covered in ice and snow. 
A number of drivers left the scene of the crash before law enforcement arrived Thursday, the State Patrol says. Anyone with information regarding the incident is asked to call the Minnesota State Patrol St. Cloud District Office at 320-223-6666.