23 charged in clash between protestors and police at future Atlanta public safety training center site
ATLANTA - Police have charged 23 people with domestic terrorism after a violent clash between police and protesters at the site of Atlanta's future Public Safety Training Facility, nicknamed "Cop City" by critics.  
Sunday night, police say the DeKalb County construction site was on lockdown as crews worked to put out flames around the area.
In total, the Atlanta Police Department said 35 "agitators" have been detained.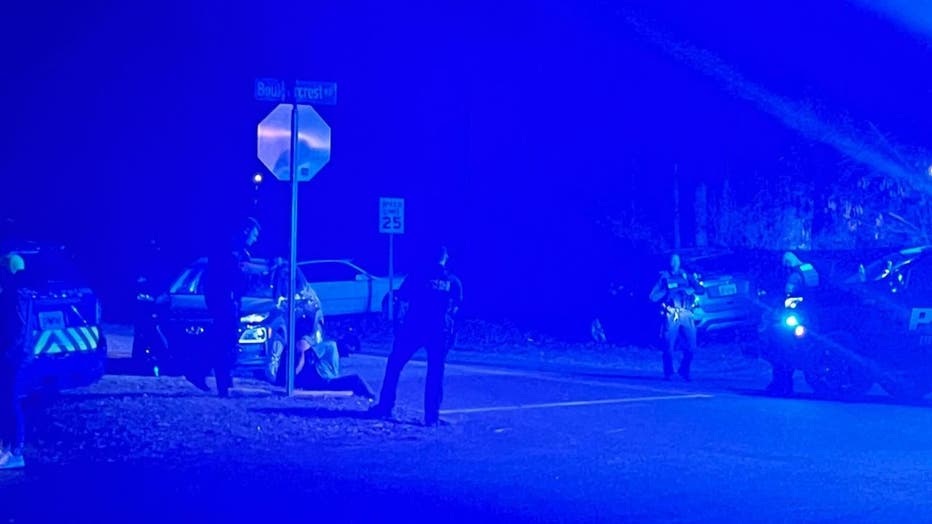 Police began making arrests.
Officials say around 5:30 p.m. Sunday, dozens of protesters left the nearby South River Music Festival, changed into black clothing, and entered the site of the controversial proposed police training center.
"This was a very violent attack that occurred, this evening very violent attack," Atlanta Police Chief Darin Schierbaum said near the scene.
A video released by Atlanta Police shows what appears to be fireworks aimed at officers. In the same video, you can see items including rocks and Molotov cocktails being thrown by protestors in the direction of police, a tipped-over vehicle that later became engulfed in flames, and protestors attempting to set other pieces of construction equipment on fire.
Schierbaum called the incident a "coordinated, criminal attack against officers."
"Actions such as this will not be tolerated. When you attack law enforcement officers, when you damage equipment - you are breaking the law," Schierbaum said.
After receiving backup from numerous agencies, Atlanta police fanned out into the woods and detained at least 35 people. Monday, police say they charged 23 of those detained with a count of domestic terrorism.
Late Sunday evening, Atlanta Police released the following statement:
FBI Atlanta weighed in on the violent incident Monday afternoon pledging to work alongside state and local partners to "determine if any federal statutes have been violated."
With protestors vowing a "week of action" against the training site, police say they'll step up patrols to prevent what they call an escalation of violence.
"Criminal activity will not be tolerated in Atlanta nor tolerated in connection to this project," Schierbaum said.
No officers were injured in the confrontation. A handful of protestors were treated for minor injuries when officers say they used "non-lethal" force against the group.
Arrested protestors identified
Shortly before noon Monday, police released the identities of the 23 protestors charged in the confrontation. Two of those arrested are from Georgia. The names of the arrestees are below:
Jack Beaman of Georgia
Ayla King of Massachusetts
Maggie Gates of Indiana
Ehret Notthingham of Colorado
Alexis Paplai of Massachusetts
Timothy Bilodeau of Massachusetts
Victor Puertas of Utah
Amin Chaoui of Virginia
Dimitri LeNy of France
James Marscicano of North Carolina
Samuel Ward of Arizona
Max Biederman of Arizona
Emma Bogush of Connecticut
Mattia Luini of New York
Kayley Meissner of  of Wisconsin
Luke Harper of Florida
Grace Martin of Wisconsin
Colin Dorsey of Maine
Fredrique Rober-Paul of Canada
Zoe Larmey of Tennessee,
Thomas Jurgens of Georgia
Priscilla Grim of New York
Zoe Larmey (Atlanta Police Department)
Gov. Kemp responds to latest clash at site
In a statement, Georgia Gov. Brian Kemp called the activists "violent" who put "those in the surrounding community at risk."
"They chose destruction and vandalism over legitimate protest, yet again demonstrating the radical intent behind their actions," Kemp said.
The governor had previously declared a state of emergency during the protests in Downtown Atlanta over law enforcement's killing of one of the environmental activists at the site.  
Speaking at his State of the State address on Wednesday, Kemp decried the protesters as "out-of-state rioters" who "tried to bring violence to the streets of our capital city." He said it was "just the latest example of why here in Georgia, we'll always back the blue."
In his latest statement, Kemp again reiterated that anyone caught committing illegal acts while protesting at the site will be prosecuted.
"As I've said before, domestic terrorism will not be tolerated in this state," he said. "As we continue to respect peaceful protest, we will also continue to ensure safety in our communities. We will not rest until those who use violence and intimidation for an extremist end are brought to full justice."
A trooper told FOX 5 that a protestor threw a Molotov cocktail. (Credit: FOX 5 Photojournalist Billy Heath)
What is the Atlanta Public Safety Training Center? 
In addition to classrooms and administration buildings, the proposed $90-million police and firefighter training center would include a shooting range, a driving course to practice chases, and a "burn building" for firefighters to work on putting out fires. A "mock village" featuring a fake home, convenience store, and nightclub would also be built for authorities to rehearse public safety scenarios.
The 85-acre property is owned by the city of Atlanta but is located just outside the city limits in unincorporated DeKalb County, and includes a former state prison farm.
Police officials say the state-of-the-art campus would replace substandard offerings and boost police morale beset by hiring and retention struggles in the wake of violent protests against racial injustice after George Floyd's death in 2020.
Opponents of the training center have been protesting since 2021 by building platforms in surrounding trees and camping out at the site. They say that the project, which would be built by the Atlanta Police Foundation, involves cutting down so many trees that it would be environmentally damaging. Many activists also oppose spending so much money on a police facility that would be surrounded by poor, majority-Black neighborhoods in a city with one of the nation's highest degrees of wealth inequality.
FOX 5 put together a full timeline of the progression of protests over the past two years, including the trooper-involved shooting death of 26-year-old protestor Manuel Esteban Paez.
This story is breaking. Check back for updates.