Convicted Salvation Army arsonist charged with trashing Caribou in Brooklyn Park
BROOKLYN PARK, Minn. (FOX 9) - The man convicted of arson at Salvation Army Church in Brooklyn Park last year now faces charges for trashing a Caribou Coffee shop.
Hennepin County prosecutors charged Jack Douglas Heinrich, 33, with third-degree burglary and first-degree damage to property for allegedly trashing a Caribou Coffee shop in Brooklyn Park on Feb. 28. 
According to the charging documents, officers responded to a call for someone destroying the coffee shop and throwing coffee mugs everywhere. It was noted Heinrich had just left the shop but was bleeding.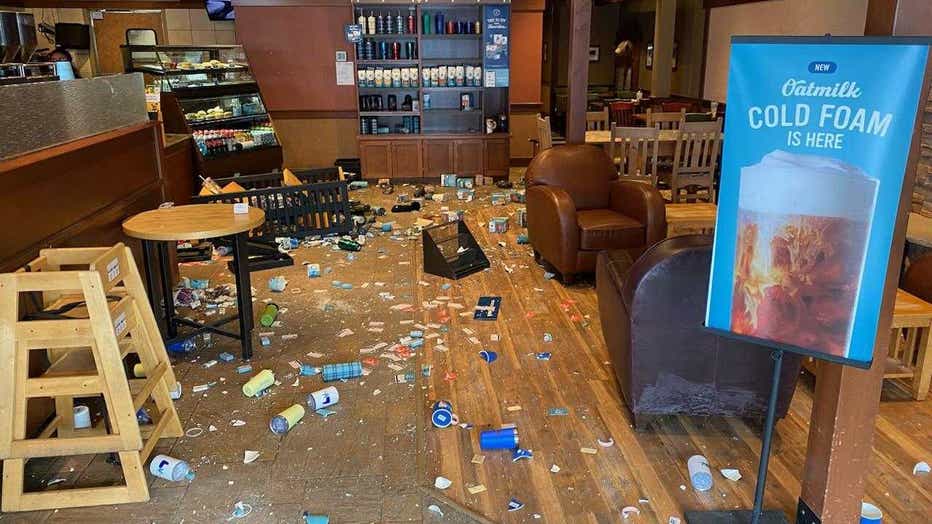 Photos show the vandalism at the Caribou Coffee in Brooklyn Park. (Supplied)
Witnesses told police Heinrich was throwing glasses and mugs and breaking things. Officers described the store as "a state of chaos and as though a tornado had blown through the store," charges say. 
There was ceramic and glass smashed on the floor, a table was broken, display cases were tipped over, and ceiling tiles were damaged. There was also blood on the floor and door handle from Heinrich cutting himself during the process, charges say.
People in the shop said they ran for safety as Heinrich was allegedly trashing the store and locked themselves in the bathroom. An employee told police they were so traumatized they would not be going back to work until next week, according to the charges. 
Photos show the vandalism at the Caribou Coffee in Brooklyn Park. (Supplied)
When officers took Heinrich into custody they described him as appearing "giddy" and smiling. Officers had also responded to a call for Heinrich at the same coffee shop earlier in the day and said he was trespassing, charges say.
This is at least the fifth incident reportedly involving Heinrich over the course of about seven months. 
A couple of months after the fire at Salvation Army church in November 2022, Heinrich was in trouble for low-level theft and disorderly conduct tickets. Before the arson, Heinrich was also involved in an incident in July 2022 during which officers say he ran away from and later fought with police. 
On Feb. 1, 2023, Heinrich was accused of smashing windows at MC Tap House with beer bottles. Heinrich allegedly told an employee at the bar when he gets out of jail he will "come back and break more windows," the complaint reads. 
Heinrich was charged with first-degree damage to property and posted a $3,000 bail on Feb. 27. 
Just two days before Heinrich allegedly damaged MC Tap House, he was convicted of second-degree arson and sentenced to serve 90 days in the Hennepin County Workhouse with credit served for 74 days. 
Heinrich was taken into custody on Feb. 28 and remains at Hennepin County Jail. He is scheduled to make his first court appearance on Friday.