Chipotle testing robots to make bowls, salads
Chipotle has announced it is testing out a robotic system to create their famous bowls and salads in an effort to free up more time for employees to deliver better service and increase digital orders during busy hours. 
"Chipotle's new digital makeline built by Hyphen embodies our commitment to leveraging robotics to unlock the human potential of our workforce, ensuring an elevated dining experience for our guests," said Curt Garner, Chief Customer and Technology Officer. "Our goal is to have the automated digital makeline be the centerpiece of all our restaurants' digital kitchens." 
The Mexican fast-food chain has partnered with Hyphen which is part of the franchise's Cultivate Next business venture aimed at helping restaurants move toward "amplifying technology and innovation," all "while running great restaurants," according to a company news release. 
Hyphen will be mainly used to create salads and bowls, while human employees will be working to make the chain's iconic burritos, tacos, quesadillas and kids meals.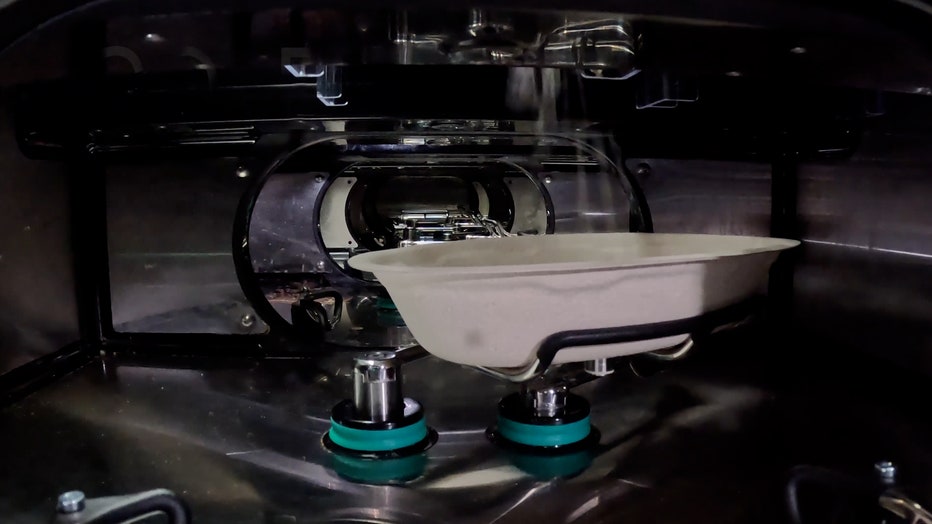 Inside Chipotle's robotic makeline. (Chipotle)
As digital orders come into Chipotle, Hyphen will take on any bowl or salad order. If the orders also contain items that the Hyphen cannot make, a Chipotle team member will prepare them. 
A Chipotle employee and the Hyphen can actually work simultaneously. Approximately 65% of Chipotle's digital orders are either bowls or salads, so having the automated assembly line will help create even faster fast food service.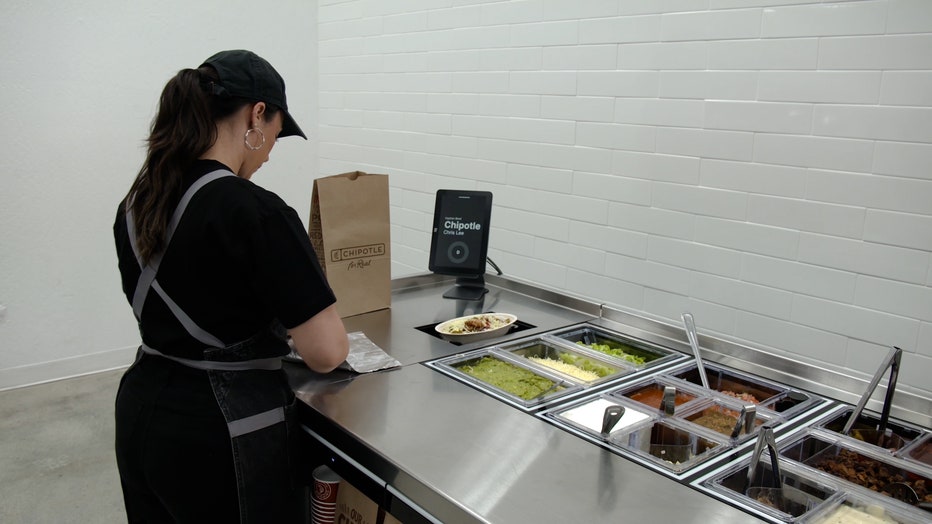 Still image taken from video showing Chipotle's robotic makeline. (Chipotle)
In July 2023, Chipotle also revealed it was testing out Autocado, a robot created to make the chain's signature guacamole. 
The restaurant created the collaborative robot prototype with Vebu, a product development firm that works with companies in the food industry to provide automated solutions for the entire food supply chain. The robot can cut, core and peel avocados before they are hand mashed. 
Automated technology in the fast food service industry is becoming more prevalent as labor shortages and COVID-19 pandemic-era hygiene concerns linger. 
In the U.S., the restaurant industry employed 15 million people at the end of last year, but that was still 400,000 fewer than before the pandemic, according to the National Restaurant Association. In a recent survey, 62% of restaurant operators told the association they don't have enough employees to meet customer demand. 
Adoption of new technology like QR code menus also laid the ground for robots, said Karthik Namasivayam, director of The School of Hospitality Business at Michigan State University's Broad College of Business. 
"Once an operator begins to understand and work with one technology, other technologies become less daunting and will be much more readily accepted as we go forward," he said. 
White Castle announced at the beginning of 2023 that they would be employing Flippy, a robot created to cook burgers and serve up fries. 
Earlier this year, Wendy's also announced its plans to partner with Google to employ cloud AI technology to speak with customers and take orders in the drive-thru. 
Eventually, Namasivayam expects that a certain percentage of restaurants — maybe 30% — will continue to have human servers and be considered more luxurious, while the rest will lean more heavily on robots in the kitchen and in dining rooms. Economics are on the side of robots, he said; the cost of human labor will continue to rise, but technology costs will fall. 
The Associated Press and FOX Business contributed to this report. This story was reported from Los Angeles.