Boater pulled into lock and dam, killed on Mississippi River in SE Minnesota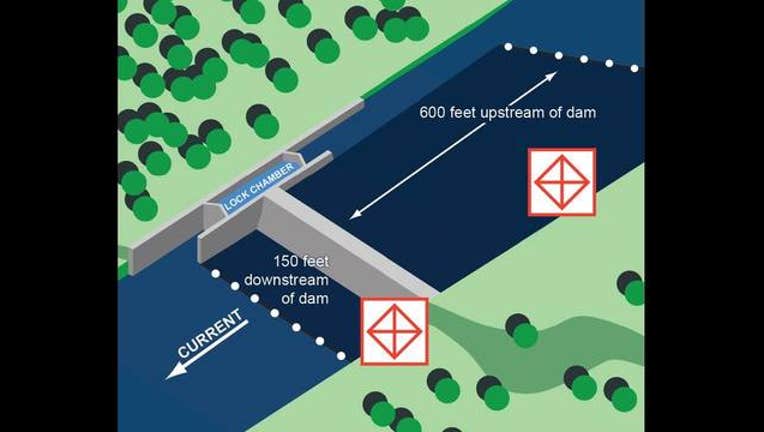 article
(KMSP) - A 52-year-old Iowa man died after he was pulled into the fast-moving water near the lock and dam system on the Mississippi River in southeastern Minnesota over the weekend. According to the Vernon County, Wisconsin Sheriff's Office, James Freeman of Lansing, Iowa, was trying to put on his life jacket when his fishing boat capsized.
The Genoa Lock and Dam No. 8 is just north of the junction of Minnesota, Wisconsin and Iowa.
The Vernon County Sheriff's Office received a call of a boat that was close to the rollers of the dam on the afternoon of Friday, March 31. According to the sheriff, the boater attempted to put his anchor down, but it did not hold. He then tried to get away from the dam but the current was too strong and pulled the boat under the roller gates.
The incident was reported at 4:43 p.m. Friday, and Freeman was recovered from the water at approximately 6 p.m.
"We had a tragic loss of life incident this weekend at one of our lock and dams where a boater entered the restricted area and was pulled into the churning water at the base of the dam," said a statement from the U.S. Army Corps of Engineers St. Paul District. "The hydraulic effect below a dam is incredibly dangerous. With the turned up water, a high powered boat would have a tough time escaping this turbulent water."
Boats are restricted 600 feet upstream of the dam and 150 feet downstream of the dam according to the Army Corps. The restricted areas are marked with buoys and signage on the shore or lock walls.
The turbulent water can be a dangerous draw for anglers because of the good environment it creates for fish. 
"The design is to keep the water up at a certain level and maintain it there. But in doing so there's a lot of turbulence and a lot of rolling of water immediately below those dams," Keith Butler, La Crosse County Emergency Management Coordinator told WXOW-TV in La Crosse, Wisconsin. "That's wonderful for fish because it injects a lot of air into the water and they just like that environment. But it's awful for people because once you get in there you can get sucked into that turbulence and it's almost impossible to get out of it."
The Genoa First Responders, Genoa Fire Department, La Crosse Dive Team, Wisconsin Department of Natural Resources and Minnesota Department of Natural Resources assisted with the response and recovery. This incident remains under investigation by the Wisconsin DNR.