Board: Minnesota nurse caught stealing pain meds for 3rd time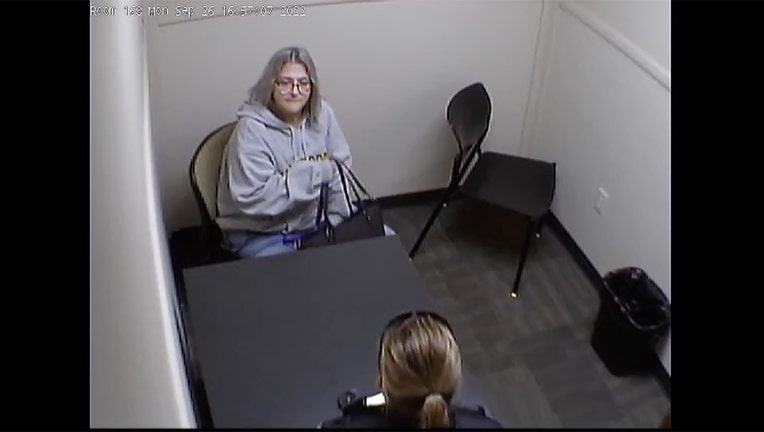 article
(FOX 9) - A registered nurse had her license suspended for a third time after allegedly stealing pain medications last year from residents in a Minnesota nursing home.
The Minnesota Board of Nursing suspended the registered nursing license of Jody Diercks, 52, of Red Wing, during a closed session of its meeting Thursday.
The board previously suspended her license in 2014 and 2010 for stealing prescription pain medications from patients. 
The third suspension on Thursday came 11 months after she was allegedly caught stealing pain medications from seven patients at a Mankato nursing home.
A FOX 9 Investigators review of her case illustrates the chronic problem with stolen medications in nursing homes and assisted living, as well as the difficulties the Minnesota Board of Nursing has encountered holding nurses accountable in a timely manner.
One month, 7 patients, 64 missing pills 
In the latest case, Diercks was working last year as a registered nurse at Laurel's Peak Rehabilitation in Mankato, when her supervisor became concerned about discrepancies in the narcotics log used to track medications given to patients.  
Her supervisor, the director of nursing, was aware Diercks had stolen pain medications from patients in her previous job.
An audit performed by the nursing home found during September 2022, Diercks allegedly took medications from at least seven patients consisting of 31 pills of oxycodone, 11 Dilaudid (hydromorphone), 11 hydrocodone, five lorazepam, six hydromorphone pills, and 20ml of liquid hydromorphone.
Laurel's Peak Rehabilitation fired Diercks nearly a year ago, on Sept. 23. 
A Minnesota Department of Health (MDH) investigative report from December, which did not mention Diercks by name, substantiated that she signed out opioid medications that were never administered to residents. 
In an interview with a Mankato police officer, Diercks said she had only a "fuzzy recollection" of dispensing the drugs and blamed the charting discrepancy on a "medication error" or the nurse who followed her shift.
"Overall, Jodi seemed unbothered by the investigation and provided me with several non-answers to my questions. Jodi was very relaxed and lackadaisical during the interview. Jodi did not seem phased that I was investigating her for felony-level offenses," the officer wrote in her report.
The Blue Earth County Attorney declined last October to file criminal charges against Diercks because prosecutors said they couldn't prove she was "in actual possession of the allegedly stolen controlled substances" and that other people hadn't access to the medications.  
'Both Sides of Addiction'
Diercks told investigators she has seen "both sides of addiction" and got hooked on painkillers 30 years ago when they were prescribed for chronic back problems. She has been diagnosed with polysubstance dependence and a mental health condition, according to reports.
She claims to be sober since 2014 and moved to Mankato to be a drug and alcohol counselor.  
A check with the Office of Behavioral Health & Therapy shows she obtained her license as an alcohol and drug counselor in December 2018. Her license expired in December 2020.
FOX 9 made repeated attempts to contact Diercks for comment.  
Nursing board at a crossroads
It took 11 months for the Minnesota Board of Nursing to suspend Diercks' license after she was allegedly caught stealing pain meds. During that time, her license was in good standing.
The Minnesota Board of Nursing oversees licensing and discipline for 150,000 nurses, but it has struggled in recent years to discipline nurses in a timely fashion. 
The board currently has 575 open investigations involving nurse practices, down from more than 800 open investigations a year ago. 
Eight of those current investigations have been open for more than three years, while more than 100 investigations have been open for a year or more.
Within the last year the board has received more than 1,151 complaints, more than half (696) were dismissed and 16 percent (187) received some sort of disciplinary action.
The most common disciplinary action in the last year was a reprimand and fine, followed by a conditional license, and a stayed suspension.
Under state law, the board is required to immediately suspend a nurse who presents an "imminent risk of harm."  
In the last year, 23 nurses had their license suspended under an administrative action, and 28 nurses had their license suspended as a form of discipline. Only 6 nurses have had their license revoked.  
The board has also struggled with its leadership.  
In May, its executive director, Kimberly Miller, resigned just as the board was to consider firing her. She had been placed on leave for an unspecified "personnel issue," after an investigation by ProPublica.
In an email to FOX 9, the board's interim director, Kristin Batson, defended the handling of the Diercks case.  
"In the board's previous actions against Ms. Diercks' licenses, numerous public protection requirements were placed on her licenses. She successfully completed all requirements from her previous orders."
When Diercks applied for renewal of her registered nursing license in February, she failed to disclose she was fired in September from Laurel's Peak Rehabilitation in Mankato.
Batson said state law prevented her from disclosing how the board learned of the latest case in Mankato.  
An epidemic in long-term care
The theft of medication in assisted living and nursing homes appears to be a growing problem in Minnesota. In public health lexicon it is known as "drug diversion."
A study published earlier this year in the Journal of Applied Gerontology, examined 107 case reports from 2013 through 2021, where the Minnesota Department of Health (MDH) substantiated "drug diversion" in an assisted living residence or nursing home.
The study documented a total of 11,338 tablets stolen from 368 residents, an average of 30 tablets per resident.
The study's lead author, Eilon Caspi, an adjunct clinical professor at the University of Minnesota, believes that represents a fraction of the medications stolen from patients.
"This is the first study in the United States on the theft of controlled substances, opiate pain medications, in long-term care homes," Caspi said.
Among the study's findings:  
Half the employees (49%) stealing medications were nurses
Opioid pain medications accounted for 94% of the stolen pills
80% of the employees admitted to stealing the drugs
 Most of the suspects stole the medication for personal use
Surveillance cameras provided evidence in 26 percent of the cases
But Caspi said there is a balance between holding nurses accountable and supporting them through three long years of pandemic.
Researchers have warned that simply firing a nurse may drive the problem underground without protecting the public or helping the nurse.
Caspi believes better safeguards are needed for the handling, counting, and destruction of medications. 
"The culture of safety in assisted living residences is very weak, and everybody knows that," Caspi said.
"You have to be vigilant, and you have to have audits, shift counts, and you have to have enough staff," he continued.
"In some cases that may not be a priority. And if I am addicted to opiate pain medications, I can take advantage of that," Caspi said. 
A pattern of stealing pain meds
In the case of Jodi Diercks, the Minnesota Board of Nursing was already well acquainted with her struggles with addiction before it suspended her license on Thursday.    
In July 2009, Diercks admitted to stealing Vicodin from an unidentified nursing home in Red Wing.  
At the time, she was also having trouble outside of work. In January 2009 she was convicted of driving while intoxicated and in December 2009 she reportedly hit two parked cars under the influence of prescribed Ambien.
The Minnesota Board of Nursing approved her return to work in March 2010 after she had completed inpatient chemical dependency treatment and was under the care of a psychiatrist and psychologist.
The Minnesota Board of Nursing suspended her license in June 2010, but stayed that suspension, so long as she agreed to monitoring by the Health Professional Services Program (HPSP), a confidential program that monitors health professionals with physical, mental, or psychological conditions, including chemical abuse and addiction. 
The stayed suspension of her license was removed two years later, in August 2012, and she was granted an unconditional license.
Second strike
Less than two years later, she was in trouble again.
In March 2014, Red Wing Police were called to Seminary Home in Red Wing where Diercks reportedly "was suicidal for fear of losing her job." 
She admitted to ingesting oxycodone, Dilaudid, and oxycontin that she was supposed to give to three residents.  
Diercks agreed to take a blood toxicology test that was positive for opiates. 
Seminary Home fired Diercks, and she was criminally charged with theft and fifth-degree possession of controlled substances.
A Goodhue County judge dismissed the theft charge and Diercks pled guilty to drug possession, but the sentence was stayed. Diercks only had to pay a $200 fine. 
Diercks changed her story for the Minnesota Board of Nursing Review Panel, telling investigators she hadn't stolen the drugs from residents but got them from acquaintances. She admitted to using the drugs on the job.
The Review Panel suspended her nursing license for two years following a one-year abstention. 
The Minnesota Board of Nursing once again reinstated her license without conditions on Oct. 14, 2021.  
She was allegedly caught stealing patient pain medication in Mankato less than a year later.