Black Lives Matter to lobby against charges for MOA protesters at Bloomington meeting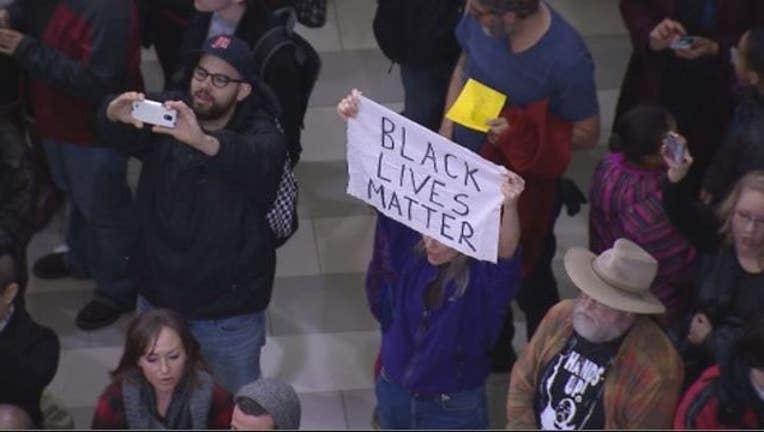 article
Local Black Lives Matter officials are urging supporters to turn out at tonight's Bloomington City Council meeting and urge officials to drop possible charges against protesters who shut down part of the Mall of America last month.
"This event is quiet and peaceful, we will not be there to disrupt the meeting, but to be a part of it during the public comment period," a post on Black Lives Matter's Facebook page says. "We will be encouraging the City of Bloomington to stop pursuing any possible charges against perceived organizers of the MOA protest on Dec. 20, 2014... It is important to show the Bloomington City Council members that there is a lot of support for the perceived organizers of Black Lives Matter Minneapolis and that groups should be treated equally in a space that has received over $400 million in public dollars."
See also: Wired calls MOA anti-protest sign 'one of the most dystopian symbols of 2014'
Asked this morning for an update on when on what charges might be filed against the protest organizers, an employee in the office of Bloomington City Attorney Sandra Johnson says there's nothing new to report beyond the public release published on the city of Bloomington's website December 23.
That release characterizes the protest as an "unlawful assembly" in violation of the MOA's "longstanding policy" against "protests or demonstrations on their site."
"This remains an ongoing investigation as additional protest participants are being identified and this information will be forwarded to the Bloomington City Attorney's Office for consideration of charges," the release continues.
Tonight's meeting is at 7 p.m. at Bloomington City Hall.