Anoka man sentenced to 40 years for murder of woman who opened her heart to him
MINNEAPOLIS (FOX 9) - An Anoka man, with a troubling history of drugs, guns and mental illness, was sentenced to 40 years in prison for the July 2022 slaying of a woman he once dated, a woman who tried to help him find his way.
"I am forever broken," said Linda Norton, the mother of murder victim Katie Fredrickson. "I have been given a life sentence for a crime I did not commit. But I have to live through it. Michael Klinger should be serving the life sentence."
Norton and her family are shattered after the 34 year old was murdered in cold blood inside her Brooklyn Center home.
Klinger, the man who pulled the trigger, was once welcomed into the family's home as he sought a second chance in life.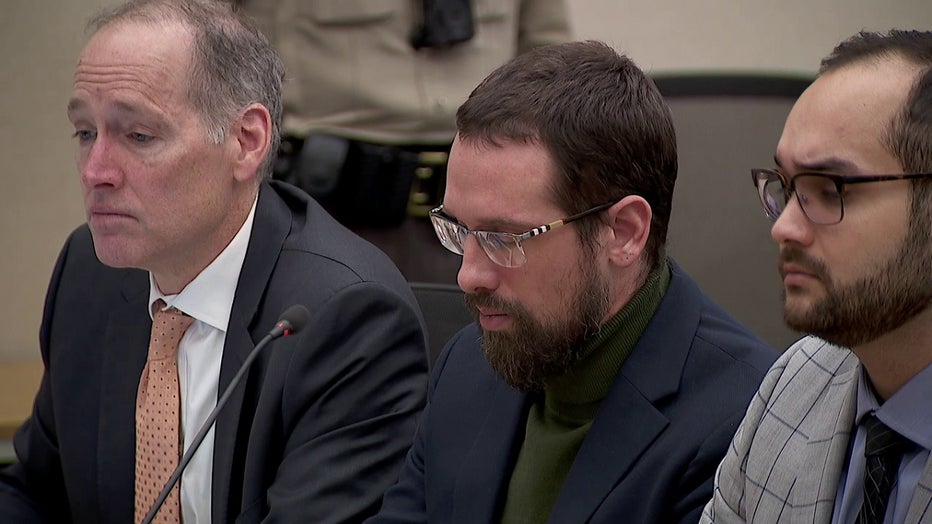 Michael Klinger (center) speaks in court (FOX 9)
During an emotional sentencing hearing Thursday in Hennepin County District Court, Fredrickson was described as a bright, ray of sunshine with big dreams on the horizon particularly for her young son she left behind.
During victim impact statements, several loved ones shared stories of Fredrickson's giant heart. And there were those in the courtroom wondering if it was that heart that got her killed in an act of pure evil.
"I never knew what it was like to feel the pain and the hurt that I feel," said Lyndzi Durkin, Fredrickson's Goddaughter. "This is the feeling you hear about, but never think will actually happen. She did not deserve this."
Through her tears, Durkin told the court her godmother was always there for her even when times were challenging.
Katie's brother echoing those sentiments, describing a giant hole of darkness left behind following Fredrickson's murder last summer.
"Katie would have been the first to tell you that she was not perfect, nor did she want to be. Katie was 100% unapologetically Katie, and people loved her for it," her brother said during his victim impact statement.
It is still not entirely clear what happened the afternoon of July 31st inside Fredrickson's Brooklyn Center home. There was an argument.
We know her killer, Michael Klinger shot her several times.
The family told FOX 9's Paul Blume that they had once taken in Klinger, opening their home and their hearts to help get him on his feet, and give him a better chance at a clean life.
The couple at some point dated. Why he killed her, Klinger provided some clues during a courtroom apology.
"Words can't begin to express my remorse," Klinger told the court. "I was not in my right mind at all. And so the version of me that takes my mental health meds would have never let this happen. I regret every second of every day and do not ask for forgiveness because I still cannot forgive myself."
As he imposed the 40-year sentence, Hennepin County District Court Judge Jay Quam told the convicted murderer, "I don't know where you're at now, Mr. Klinger. I know there was a part of you on July 31st that decided that if you couldn't have Katie Fredrickson in the way you wanted her, nobody was going to."
Quam continued, "And that the way you were going to fix that was to take her away from the world. And what I would say is, if there is any part of you there that still feels like that was the solution to a problem, I want you to walk through the door, in your handcuffs to your prison cell knowing that you did not succeed in that."
In addition to the 40 years for Fredrickson's murder, Klinger also received 5 additional years to be served concurrently, or at the same time for a separate shooting.
Just four days before Klinger murdered Fredrickson, he went up to a separate former girlfriend in Minneapolis and shot and killed her dog.
Emily Roitenberg described Augie as her absolute best friend and forever side-kick during her own victim impact statement in front of Judge Quam at the same sentencing hearing.