Animal sedative 'zombie drug' flooding opioid market: What you need to know
LOS ANGELES - Xylazine, an animal sedative drug, is currently flooding the illicit opioid market, resulting in overdoses and deaths. 
In November, the Food and Drug Administration put out a warning for all healthcare professionals to be on the lookout for this sedative which is normally prescribed by veterinarians. It's not approved for human consumption and can cause "serious and life-threatening side effects that appear to be similar to those commonly associated with opioid use," according to the FDA. 
RELATED: FDA links opioid overdoses to animal sedative not for human consumption
But for the millions of people addicted to opioids like fentanyl and looking to top their last high, the additional risk is not their first concern.
To those under the thumb of opioid addiction, xylazine seems like an efficient alternative, but according to the Drug Enforcement Agency, taking xylazine can result in blurred vision, disorientation, drowsiness, staggering, coma, bradycardia, respiratory depression, hypotension, miosis, and hyperglycemia.
Kaiser health calls xylazine the "zombie drug" because users who report taking the drug say they've experienced side effects akin to a flesh-eating disease. 
Of greater concern to medical experts is the fact that xylazine is a sedative and not an opioid, so opioid overdose reversal treatments like Narcan don't work. 
When the FDA first reported its concern over xylazine, it was not yet clear how widespread its use was. According to a report from the Philadelphia Department of Public Health, xylazine — also known by its street name "tranq" — was found in over 90 percent of dope samples tested in the agency's labs.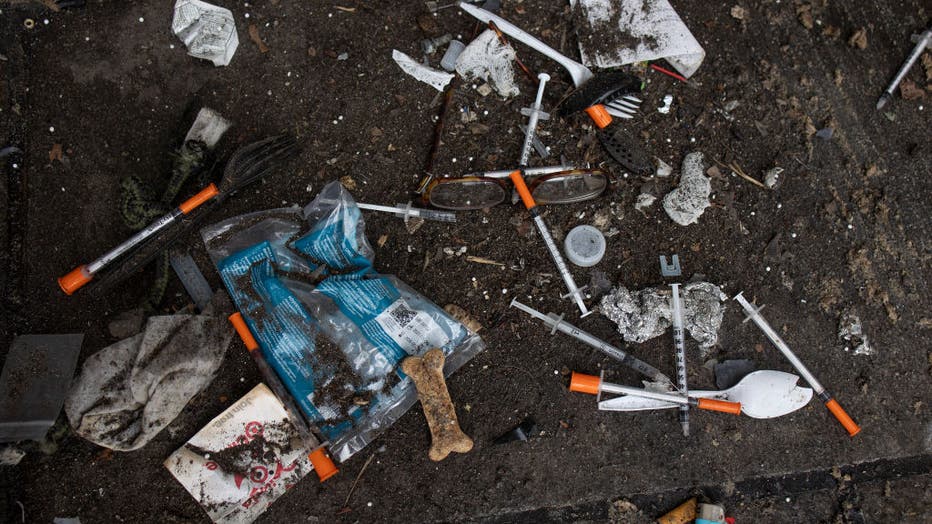 NEW YORK, NEW YORK - SEPTEMBER 22: Used needles are seen on the street during a city sweep of a homeless encampment, September 22, 2022 in New York City, New York. (Photo by Andrew Lichtenstein/Corbis via Getty Images)
In a separate study published in June 2022, xylazine was detected in the drug supply of 36 states and the District of Columbia. 
The New York Times reported on Jan. 7 that xylazine was found in 25 percent of all drug samples in New York City. 
After it was approved by the FDA 50 years ago as a veterinarian-prescribed sedative, it is not listed as a controlled substance for animals or humans and is not subject to monitoring by law enforcement. 
But in December, the Office of National Drug Control Policy announced that it was tracking the spread of xylazine.
"Xylazine, a drug used in veterinary medicine as a non-opioid sedative and analgesic, has been linked to an increasing number of overdose deaths and other serious harms. ONDCP is reviewing data on the use and effects of xylazine, and the voices of state, territorial and local officials are critical sources of such information," a White House Press release wrote on Dec. 27, 2022. 
On Dec. 23, 2022, the journal Pediatrics published a study analyzing three cases of xylazine ingestion by toddlers. 
Currently, the FDA is still investigating how exactly xylazine is entering the illicit drug trade for humans.
"FDA encourages health care professionals and patients to report adverse events in humans associated with possible illicit xylazine exposure to FDA's MedWatch Adverse Event Reporting program. Complete and submit the report online at www.fda.gov/medwatch/report.htm; or download and complete the form, then submit it via fax at 1-800-FDA-0178," the agency writes.