Amir Locke shooting: Rally marches through downtown Minneapolis
MINNEAPOLIS (FOX 9) - More than 1,000 protesters marched through the streets of Minneapolis on Saturday, as they called for action following the shooting of Amir Locke in Minneapolis.
The protest gathered outside the Hennepin County Government Center around 3 p.m. Locke was shot and killed as police executed a "no-knock" warrant this past week. Bodycam video shows police charging into an apartment on Marquette Avenue early Wednesday morning as part of an investigation into a murder in St. Paul.
Locke, who wasn't named on the search warrant, was apparently sleeping on a couch as police charged in. In a matter of seconds, Locke is shot and killed by officers. Police say Locke had a gun on him. However, attorneys representing Locke's family point out he was a legal gun owner and had little time to try and understand what was happening before he was shot and killed.
The protest on Saturday follows a car caravan rally on Friday night rallying against the shooting.
Saturday, the group rallied near the government center before marching through the streets of downtown, over the course of about three hours in cold temps.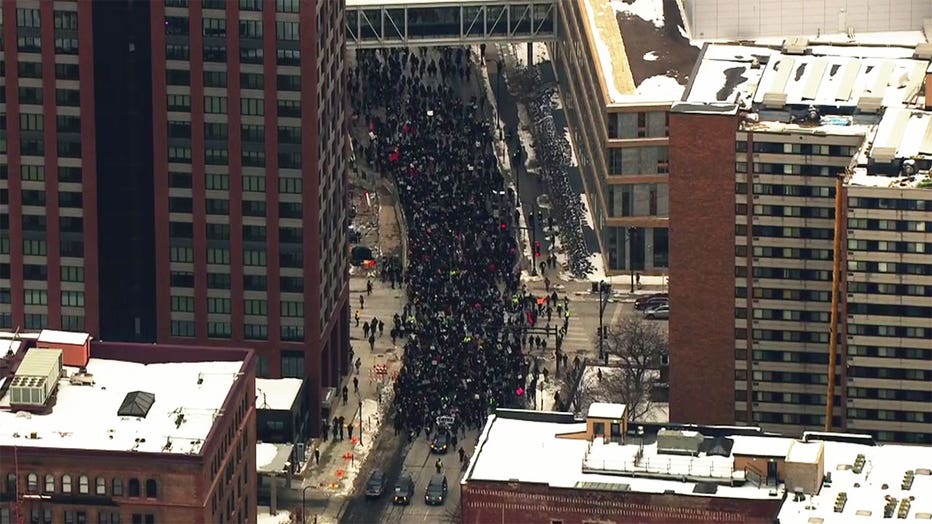 The march for Amir Locke in downtown Minneapolis on Saturday, February 5, 2022. (FOX 9)
Crowd members on Saturday help signs honoring Locke, while also calling into question the circumstances that led to his death. The group called for the officers who shot and killed Locke to be arrested, while also calling for the resignation of Mayor Jacob Frey and Interim Minneapolis Police Chief Amelia Huffman.
On Mayor Frey, protesters carried signs reading: "Frey lied, Amir died." The signs reference the fact that Minneapolis police went forward with a "no-knock" search warrant in Locke's death, despite a pledge by Mayor Frey to restrict the practice after the death of Breonna Taylor in Louisville, a shooting that made waves nationwide. Taylor was killed in a situation similar to Locke's death.
After Locke's death, Frey said on Friday he will ban no-knock warrants in most circumstances.
Among the speakers at the rally was Locke's father, who called for 22 days of peace in honor of his son.
"I'm going to make this clear, because we aren't police bashers," said Andre Locke. "We don't do that. We have too many family members. There's great officers that are white. There's great officers period, but they have bad seeds. They have the bad seeds and those bad seeds are the ones who don't need to be in our communities."
In response to the signs, a spokesperson for Mayor Frey told FOX 9: "Outside of limited exigent circumstances, like a hostage situation, MPD officers will be required to announce their presence prior to entry...we can't prevent every tragedy, but we can limit the likelihood of bad outcomes."
Saturday's rally remained peaceful with more than 1,000 people gathering in downtown Minneapolis.