New academy graduate makes fourth member of his family on the St. Paul Police force
ST. PAUL, Minn. (FOX 9) - A new police recruit in St. Paul is continuing a family legacy, as he becomes the fourth one to join the force.
Twenty-three-year-old Nicholas Grundhauser graduated from the police academy Thursday, walking the same stage and at the very same age his dad did when he joined the force nearly three decades ago.
Nicholas' dad Don Grundhauser is a sergeant with the St. Paul Police Department and said while he did not push a career in law enforcement on his son, he's incredibly proud.
"He was in the Army - combat medic - and he said, 'Dad I want to be a police officer.' I said, 'A police officer? Why don't you be a firefighter?' And he said, 'Dad, the world needs good officers too,'" said Don. "He wants to make a difference and that means a lot."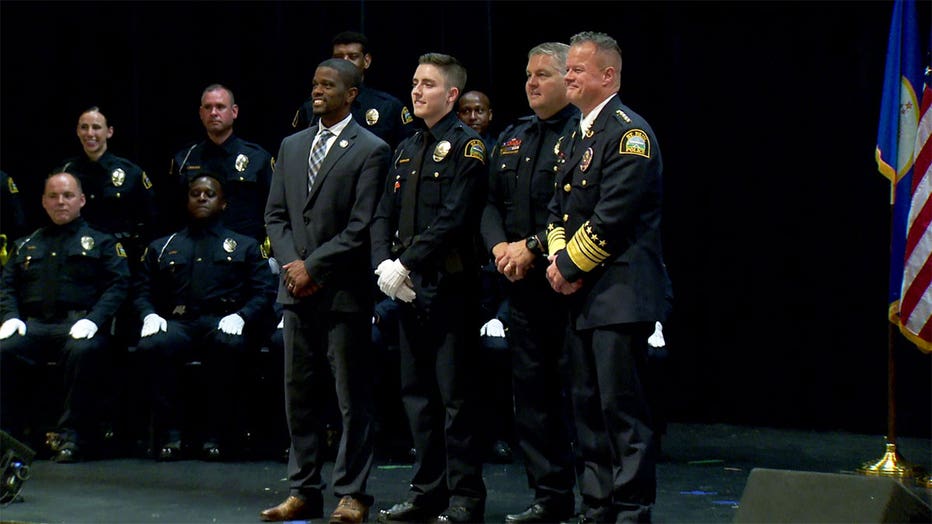 Nicholas was not only welcomed into the force by his dad, but also his uncles Mark and Keith Grundhauser. Mark has been with the department for 11 years, while Keith is going on 16 years.
"I'll try to visit him at some of his calls," said Mark. "Just to see how he's doing - just to bug him."
The Grundhauser brothers grew up in St. Paul. Their father still lives in the house where they were raised. When St. Paul mayor Melvin Carter introduced Nicholas on stage at graduation, he whispered to his dad, "Another Grundhauser?" congratulating dad and son on the accomplishment.
"I have seen my family go through it for years," said Nicholas. "I know the good work they do in the city and I want to represent the city well and follow in their footsteps."
Don said he has offered his son some advice as he prepares to clock in for his first shift Monday: be compassionate and do it with integrity.