'I'm honored': Air Force pilot among the first to fly supersonic jet while pregnant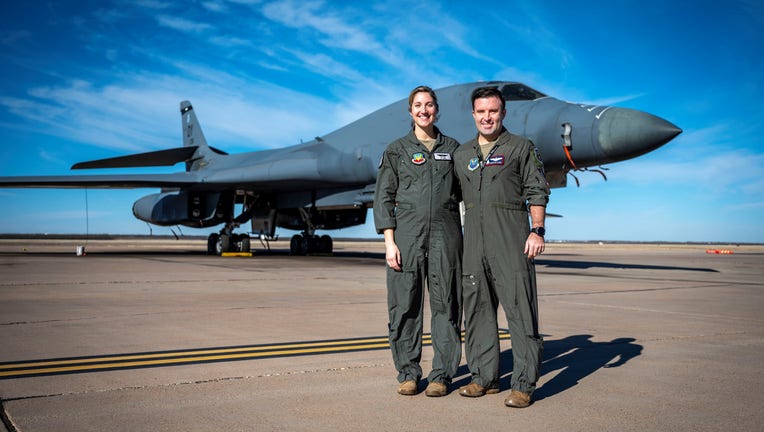 article
TAYLOR COUNTY, Texas - Maj. Lauren Olme is making history by becoming one of the first U.S. Air Force pilots to fly a supersonic aircraft while pregnant. 
Lauren, who serves as the 77th Weapons Squadron assistant director of operations, recently flew a B-1B Lancer on Dyess Air Force Base in Taylor County, Texas. 
Despite being pregnant, Lauren never gave up on her dreams of flying. The Air Force recently created a policy that gave more flexibility and allowed aircrew to voluntarily request to fly while pregnant. 
RELATED: Kentucky woman with over 230 great-great-grandchildren meets great-great-great-grandchild
"I can't overexpress how amazing it is that pregnant women now have the opportunity to fly in all types of aircraft," Lauren said in a news release. "It's a very personal decision that Mark and I made together because there are risks involved in flying the B-1 while pregnant but after conferring with Air Force and civilian medical doctors, we felt comfortable with me flying for a few weeks."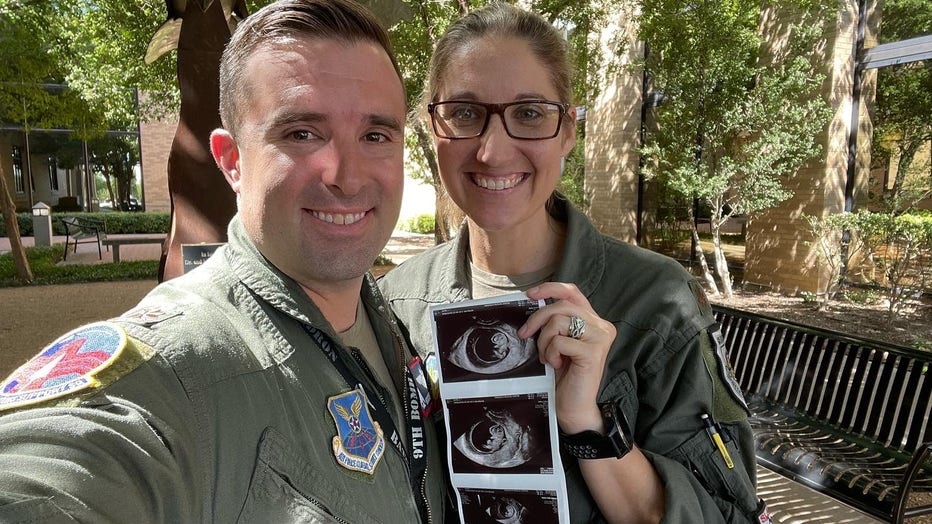 Maj. Lauren Olme and her husband, Maj. Mark Olme. (Credit: U.S. Air Force)
"The policy allows for aviators to fly up to 28 weeks, but for various reasons my medical team decided it best to stop around the 22-week point, so that is all the flying I'll do with our baby," she continued. 
Olme, and her husband Maj. Mark Olme, found out about their new addition in August 2022. 
The couple's baby is due to be born in April 2023 and has already become one of the first babies in the Department of Defense to clock 9.2 hours in a supersonic aircraft.
Lauren said she developed her passion for flying by watching her father, who also was a pilot with the Air Force. 
RELATED: Computer chip makers must provide child care, other benefits if they want federal funding
"My dad flew F-15Cs, so I instantly fell in love with flying and the Air Force culture at a pretty young age," Lauren continued. "There was never really a time that I officially decided I wanted to join the Air Force, it was just something I always wanted to do."
According to the military, Lauren and her husband met at the Air Force Academy and started dating in November 2011. They were married seven months after graduation. 
Afterward, the couple moved to Ellsworth AFB in South Dakota and joined each other on assignments. They were deployed on a Bomber Task Force to Andersen AFB, Guam, multiple at Nellis AFB, Nevada, and a combat deployment to Al Udeid Air Base, Qatar. They even attended the Air Force's version of "Top Gun" in 2020. 
"Lauren and I have been very blessed with the opportunity to be stationed together, deploy together and go on multiple month-long exercises together," Mark said. "The aviation world is stressful enough, then add competing with your wife, who is better than you, for everything! However, we have got to share some special moments together because of it."
RELATED: This $3K self-driving stroller will turn your baby into a James Bond villain
Lauren said she is glad the new policy allows her to fly while pregnant. 
"I'm honored to be one of the first to fly in an ejection seat aircraft while pregnant," she said. "I wouldn't have been able to do it if women in the Air Force didn't advocate for these types of policy changes, so to live out a policy change that other women worked so hard to enact is truly an honor."
This story was reported from Los Angeles.