After 81 days of summer, back to school in Minneapolis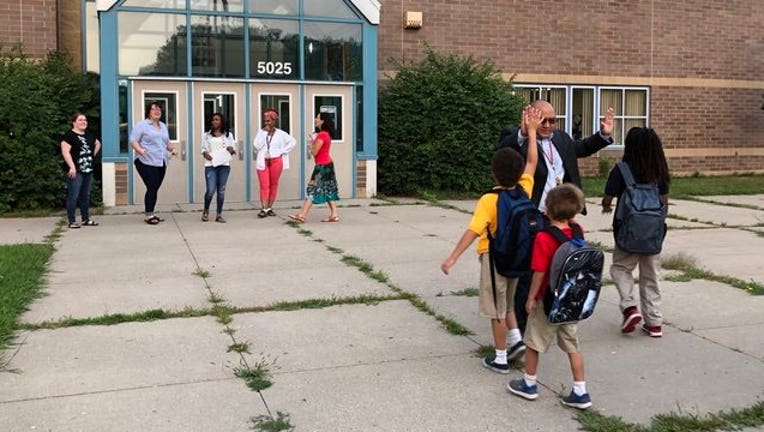 article
MINNEAPOLIS (KMSP) - It's the first day of school for students at Minneapolis Public Schools. Superintendent Ed Graff will start his day by welcoming students at Jenny Lind Elementary School before making the rounds and visiting with students and staff at schools all over the city.
If it feels like summer went by quickly, put yourself in the shoes of a returning student. Just 81 days after the last bell signaled the start of summer, Monday's first bell means the beginning of another school year. 
Incoming students may not be the only ones with first day jitters -- there are at least a half dozen Minneapolis schools with new principals this year.  
MPS worked strategically to avoid possible delays due to the Interstate 35W construction project, but some delays are possible. Minneapolis families with questions about transportation should call the school office or the transportation dispatch office at 612-668-2300.
The start of the school year is also a good time to remind drivers to be extra careful when heading out of your neighborhood in the morning. Be sure to keep an eye out for kids walking or biking to school or waiting at the bus stop.
The majority of schools districts in Minnesota don't begin classes until the Tuesday after Labor Day. 
New principals and notes from MPS
Jenny Lind: "After a rough summer with someone driving into the playground at the park near the school and the nearby Blevins shooting, Jenny Lind is starting on a strong foot with the school's new principal Pao Vue and plans for a brand new playground thanks to KaBOOM! and ForestersJenny Lind is doing lots of fantastic work. Last year they instituted four Harry Potter-type houses that encourage students to get caught "doing good." It's part of their Positive Schoolwide Engagement Plan to encourage positive behaviors and reward students for cleanliness, helping others in class, collaborative problem solving, and showing compassion for one another. They have House Meetings every first Friday of the month where each House meets with students and works on community building, House Pride, and House Chants (that they must perform at the Awards Assembly after their House Meetings). The principal critiques those House Chants and gives points to Houses accordingly. There was a really positive effect from this last year and the school saw a reduction in behavior-related incidents."
Hall: "This is principal Sherrill Lindsey's first year with MPS. She comes to Hall from Brooklyn Center and has more than 20 years of experience in education, including as a teacher, community education coordinator, special education trainer, parent advocate, and intervention support staff. Ms. Lindsey also has a proven track record of building strong teams to support students and meet their individual needs."
Bethune: "Principal Jasper Johnson has extensive experience in education and spent more than two years serving the Bethune community as Assistant Principal. Throughout his career, he has demonstrated his leadership and commitment to equity so that every student he serves receives the individualized attention they need to succeed."
Bryn Mawr: "For more than 25 years, Laura Cavender has taken on many roles in MPS, including most recently as an associate superintendent overseeing MPS's high-priority schools. In addition, she has served as a principal in MPS and a classroom teacher. Now as principal of Bryn Mawr, Ms. Cavender continues to focus on making sure every student receives the education they deserve with the resources and support to achieve their dreams."
Kenwood: "Principal Heidi Johnson has rich experience in education and equity. She has been an educator for the past 12 years after working for years on behalf of immigrants and international students in a variety of venues. Throughout her career, Ms. Johnson has demonstrated her belief in and commitment to helping each student reach their highest potential."