Acting Minneapolis police chief begins journey to confirmation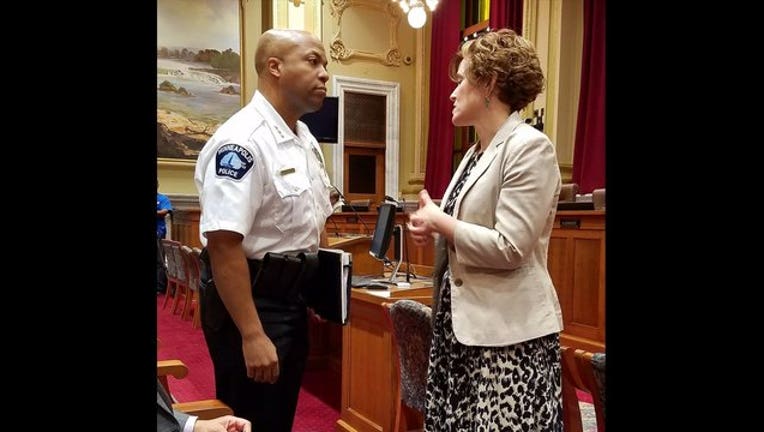 article
MINNEAPOLIS (KMSP) - Acting Minneapolis Police Chief Medaria "Rondo" Arradondo earned the unanimous approval of the city council's executive committee at a special meeting Tuesday morning. Tuesday's meeting was the first step in the confirmation process for Arradondo following his nomination by Mayor Betsy Hodges.
The committee approved Arradondo appointment as chief through Jan. 2019, which would complete the remaining term of former Chief Janee Harteau. Council members made it clear that approving Arradondo's nomination for rest of Harteau's term gives the next council and next mayor more flexibility after November's elections.
The next step in the confirmation process is a public hearing where residents get to weigh in on the nomination.
Arradondo is in line to make history as the department's first African-American police chief.
"There have been many African American leaders who have paved the way for myself and other African American officers to be in the positions we are in today," he said at a press conference Monday. "But I also know as chief of the Minneapolis police department I have 400,000 bosses."
With "major visions" for the department, including culture changes, increased accountability for actions and working toward better outcomes in police-community interactions. He's also asking for a full review of body camera policies in the wake of the police shooting of Justine Damond, in which neither Officer Mohamed Noor, who fired the fatal shot, or his partner had their body camera turned on.
Harteau resigned the in the wake of the Justine Damond shooting. Arradondo was quickly named acting chief, and he and the mayor held a joint news conference Monday to lay out their vision for the department's future.
"Each and every day our officers must go out there and earn that trust, one contact at a time," Arradondo said. "As I tell our officers, never underestimate the power of a moment. We have opportunities out there to build that trust."
VIDEO: Nominee for police chief looks to make history amid myriad challenges