Walz to announce next vaccine phase Thursday; 70% of seniors will get shots before eligibility expands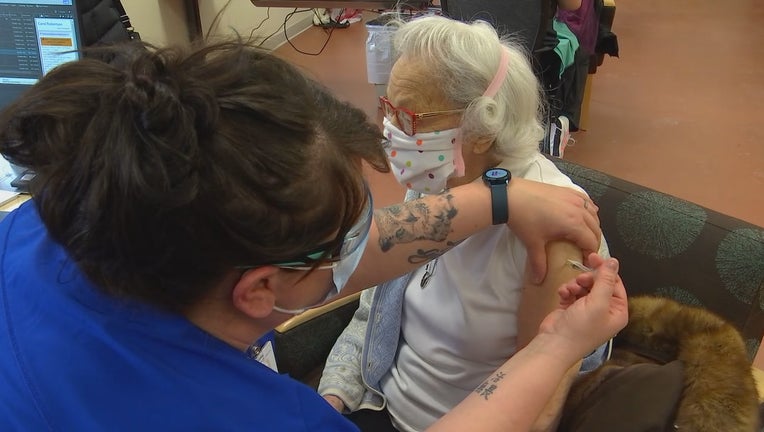 article
ST. PAUL, Minn. (FOX 9) - Minnesota Gov. Tim Walz will wait until 70 percent of senior citizens get the COVID-19 vaccine before expanding eligibility to other groups, a mark the governor expects to hit by the end of March.
Walz will hold a news conference on the next phase of the vaccine distribution at 12:15 p.m. Thursday, a spokesman said. You can stream the announcement live at fox9.com/live.
"Gov. Walz is committed to giving Minnesota seniors the opportunity to be vaccinated before opening up the process more widely," said Teddy Tschann, the governor's spokesman.
Earlier this week, Walz said he was considering whether to expand eligibility after 60 percent of people ages 65 and older had gotten a shot. Some senators pushed back and said all seniors should be prioritized first, leading Walz's health commissioner to defend the governor's plans.
Walz has not said what groups he will put next in line for a vaccine. Grocery store workers, food production workers and younger Minnesotans with disabilities have all said they should be prioritized.
Minnesota has provided at least a first shot to 42 percent of seniors, according to state data. Teachers, school staff and child care workers are also currently eligible.
Walz's announcement comes as Minnesota prepares to get significantly more vaccines in its weekly allocations from the federal government.
Minnesota is in line for at least 50,000 doses of Johnson & Johnson's COVID-19 vaccine next week if federal regulators approve the shot for emergency use.
The federal government will ship 3-4 million J&J doses to states next week, said Jeff Zients, President Joe Biden's COVID coordinator. Minnesota's share of the U.S. vaccine allotment is 1.69 percent.
The number of vaccines arriving in Minnesota each week from manufacturers Pfizer and Moderna has doubled since late January. This week, Minnesota will get 115,810 first doses, and an additional 27,000 first doses will go straight to Hy-Vee, Walmart and Thrifty White pharmacies around the state, said Erin McHenry, a spokeswoman for the state health department.
A month ago, the state was getting 68,000 first doses a week from the federal government, which had not yet launched the direct shipments to pharmacies.
Wednesday, Health Commissioner Jan Malcolm told lawmakers that seniors would remain a priority. She noted that some people will not take shots that are offered to them because of vaccine hesitancy or other reasons, so the state will not hit 100 percent uptake among any group.
"We will absolutely continue to prioritize, look for, and do outreach to seniors even as additional populations continue to become eligible," Malcolm said during a Senate Aging committee hearing.
A new mass vaccination site is opening at the Mall of America this week for educators and child care workers, Walz said Wednesday in a news release. Teachers, school staff and child care workers will be contacted directly if they're chosen for one of 8,190 available shots.