4 killed, 5 injured in two-car crash near Cornell, Wisconsin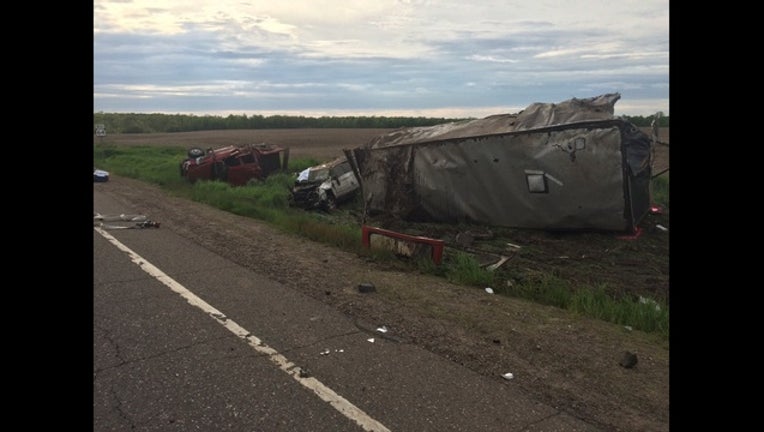 CHIPPEWA COUNTY, Wis. (KMSP) - Four people have died after a two-car crash Saturday evening near Cornell, Wisconsin.
Shortly after 5 p.m. on Saturday evening, the Chippewa County sheriff's department received a call regarding a two vehicle accident at the intersection of State Hwy 64 and CTH G. According to a release, the caller reported a number of people injured, requesting EMS.

When officers arrived, the preliminary investigation indicated that a minivan heading north on CTH G failed to stop or yield at the intersection of S-Hwy 64 and struck a westbound truck pulling a trailer.

The mini van was driven by a 23-year-old woman from Eau Claire, Wis. The pick-up truck was driven by David Kummer, 47, of Medford, Wis.

Passengers in the mini van were Mikaila Toske, 23,  Raven Ellin, 21 and Jonathan Jorgensen, 36. All three are from Eau Claire, and all three died in the crash.

Passengers in the pick-up truck were Kristine Kummer, 46, Cody Kummer, 26, Michael Molitor, 60, and Nicole Rooni, 32. All passengers are from Medford. Kristine Kummer also died in the crash.
Chippewa County Sheriff James Kowalczyk said it's the worst crash he's seen in his 40 years on the job.
The crash is being conducted by the Chippewa County sheriff's department with assistance from the Wisconsin State Patrol.
All parties involved were air lifted and or transported by ambulances to area hospitals in Eau Claire.