300 wild horses in South Dakota need homes as deadline looms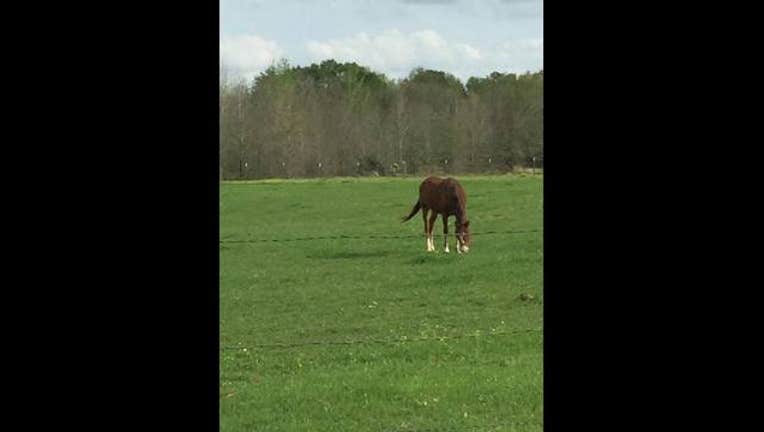 article
MINNEAPOLIS (AP) - Volunteers are scrambling to find homes for hundreds of wild horses in South Dakota that were spared a possible trip to the slaughterhouse but are now suffering through a harsh winter.
The horses, some of them blind, were once kept at a troubled South Dakota sanctuary. Now a small group of volunteers from across the country is working 10 hours a day to feed and care for animals, using rented plows to carve paths through 15-foot snowdrifts. In a nearby hotel room, other volunteers are sorting through adoption applications and networking through social media, desperately trying to find homes for the horses before they are forced to leave the property next month.
"We are working to get the whole herd out of the 15-foot snow. Some are blind and are walking out right over the fences. It's really hard to work with so many horses with so many problems," said Elaine Nash, director of horse rescue organization Fleet of Angels, who is spearheading the operation. "Every time we get over one hurdle there's another one waiting for us."
Some 500 horses have already been placed in sanctuaries and ranches across the country, from Arizona and Oregon to California and Minnesota. But the effort near Lantry, in northern South Dakota, isn't done.
The remaining 300 wild horses could be more difficult to sell or have adopted, Nash said. Nearly 200 are stallions that need gelding before anyone will want them. Dozens are old and have health problems. Others are blind from what Nash suspects was toxic farm runoff in their drinking pond.
But Nash was grateful for the response so far to the neglected herd. Many of the less desirable horses have already found homes, and Nash is hopeful that most will be out of South Dakota by their deadline.
When Nash first spread the word in October, This Old Horse rescue in Hastings, Minnesota, agreed to take two older mares.
They wound up taking seven stallions, all blind, instead.
"I don't know how it happened," joked Nancy Turner, board president of This Old Horse. "Elaine is really good at convincing people."
Turner said it's not easy. The horses are wild, after all, and need special handling and transportation. Most have never been inside a barn or trailer.
"But part of it for me is that these aren't poor needy horses," Turner said. "They are magnificent. I thought that we could celebrate them rather than see them as poor things that should probably be put down."
More than 800 horses were impounded in October at the nonprofit International Society for the Protection of Mustangs and Burros after a state veterinarian found they were being neglected and a former ranch employee said they were being starved to death. All but 20 were eventually surrendered by their owner.
By mid-December, a third of the horses had been adopted or sold while the other 550 or so were being held as collateral by county officials seeking reimbursement for the cost of caring for the horses. When it didn't come, the counties started planning to auction off the rest to recoup the cost, making animal rights groups fear many of the horses would be brought to slaughterhouses in Canada and Mexico.
Fleet of Angels and other animal rights groups raised the $78,000 still owed to the counties and stopped the auction. They then assumed the costs and responsibility of caring for the horses
The group is now gathering, microchipping, collecting blood samples and trimming the feet of the remaining horses and gelding the stallions. Meanwhile, they still need financial support to feed and care for a herd burning through $1,000 in hay each day.
Nash said horses won't be euthanized unless they have broken bones or serious conditions - even horses that might be difficult to adopt.
"We know that someone will come forward and give them good homes. People care about these horses and about making this mission a success," she said.