1,000+ plywood street art panels created after murder of George Floyd find new home
MINNEAPOLIS (FOX 9) - It's moving day for Memorialize The Movement and founder Leesa Kelly, who has her hands full getting hundreds of murals into their new home.
"I feel proud. I feel so proud. I feel grateful. I feel humbled by the murals and the community that has supported us and gotten us to this point," said Kelly.
During the unrest following the murder of George Floyd, business owners boarded up windows and doors to deter rioters, and artists saw the plywood planks as blank canvases to express the range of emotions they were experiencing. Memorialize The Movement collected more than a thousand of these panels to save the street art that popped up around the Twin Cities during that dark time.
"Each panel tells a different story of the uprising and everything that has happened since as well. Telling a story of our healing journey, our pain, our trauma, our hope, the way we've bonded through this experience, and the way we continue to fight for justice in the city," said Kelly.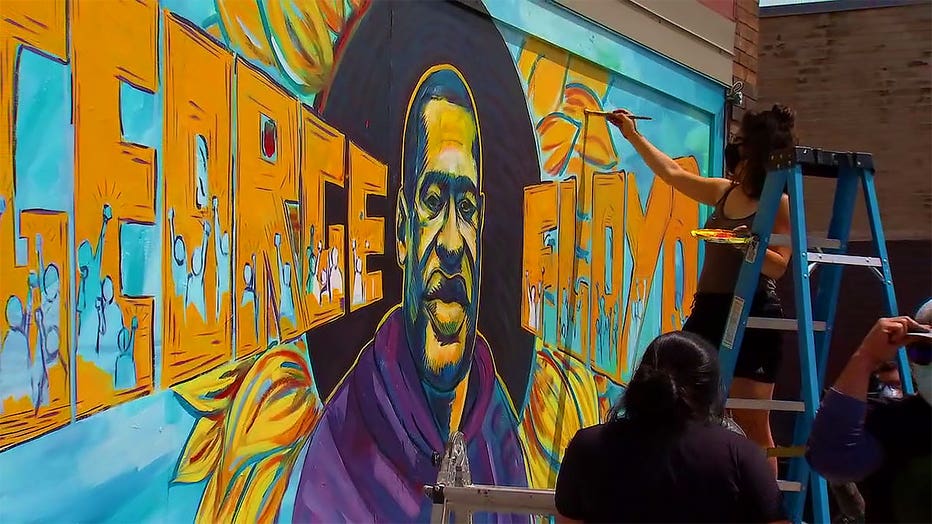 After storing the panels for three years in the Northrup King building in northeast Minneapolis, the group is now renting a warehouse along Snelling Avenue in south Minneapolis, a couple of blocks from the former Third Precinct police station.
Kelly says the bigger space will allow them to spread out and focus on photographing, archiving, and preserving the murals for future generations.
Kelly says it also seems appropriate to do it in the Longfellow neighborhood, where many of the panels came from.
"It feels like a full circle moment, of all these murals that we've collected from this neighborhood coming back home and then reconnecting with the community," said Kelly.
Kelly hopes to find a permanent home for the murals within the next five or six years that will allow the group to exhibit the panels to the public year-round.
"I think the story needs to continue to be told. People need to continue to have access to the story. If we forget what happened here, we are prone to repeat what happened in 2020 with George Floyd and the uprising," said Kelly.