1 in 4 workers prefer interacting with AI instead of humans, survey finds
The popularity of ChatGPT and other artificial intelligence (AI) applications has grown rapidly in recent months, prompting many employers and workers to evaluate its benefits at work. 
Resume Genius surveyed 1,000 employees to examine issues including attitudes and feelings toward AI and predictions for its impact in the workplace. 
The survey found that more than two-thirds (69%) of respondents fear losing their job due to the growth of AI, while 74% predicted that the technology will make human workers obsolete. In addition, 37% of survey users believe AI will reduce the number of available job opportunities. 
But while many survey users are fearful for the future of the workplace due to these technologies, many are also utilizing the programs at their own jobs and can see potential advantages.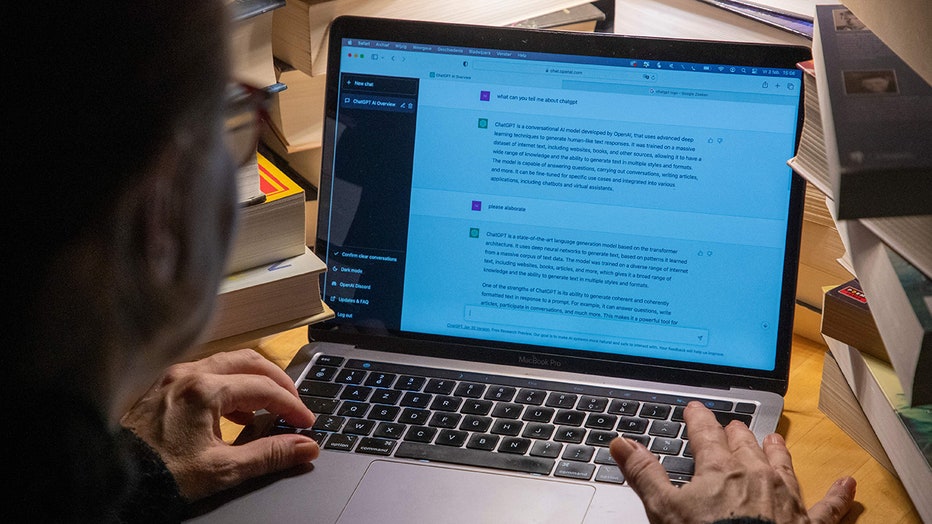 Illustration picture shows the ChatGPT artificial intelligence software, which generates human-like conversation, Friday 03 February 2023 in Lierde. BELGA PHOTO NICOLAS MAETERLINCK (Photo by NICOLAS MAETERLINCK / BELGA MAG / Belga via AFP) (Photo by
In fact, 82% of users said they have tried ChatGPT or other AI programs for work purposes and 86% thought that using the technology by employers could enhance the recruitment process. 
More surprisingly, one in four workers said they were willing to interact with AI in their workplace instead of humans.
When asked how much the survey users were willing to interact with AI in their workplace instead of humans, 25% of respondents answered "very much." 
Out of those surveyed, 1 in 10 participants earning less than $25,000 declared they weren't willing to interact with AI at work instead of humans at all. On the contrary, 34% of respondents working in the business and finance industry were very much willing to experience such an interaction.
In the survey's findings, higher education level and higher income seemed to correlate with higher trust in the advantages of AI development. Meanwhile, those with lower incomes and a lower education level remained more skeptical.
As for participants' general opinion on artificial intelligence, 60% of the surveyed employees declared they had a positive attitude toward AI technology.
This survey comes on the heels of another recent survey which found that 9 out of 10 companies are seeking employees with ChatGPT experience.
RELATED: Have ChatGPT skills? 9 in 10 companies hiring want you, survey finds
In April, ResumeBuilder.com surveyed more than 1,000 business leaders and found that 92% were currently hiring and of those who were hiring, 91% wanted workers with ChatGPT experience.
According to the survey, 30% of business leaders hiring workers with ChatGPT experience said the need was urgent, and two-thirds (66%) said the skill will give the company a competitive edge.
"With this expertise not yet widely available in the hiring market, those candidates with ChatGPT and AI skills will be highly sought after from progressive companies," Stacie Haller, the chief career advisor at Resume Builder, said. "As this tech is still so new, there is a race to bring on employees with this skill in order for the company to stay cutting edge, and it looks like companies are willing to pay to do so."
This story was reported from Los Angeles.