Twin Cities under marginal risk of severe weather, southeast MN sees slight risk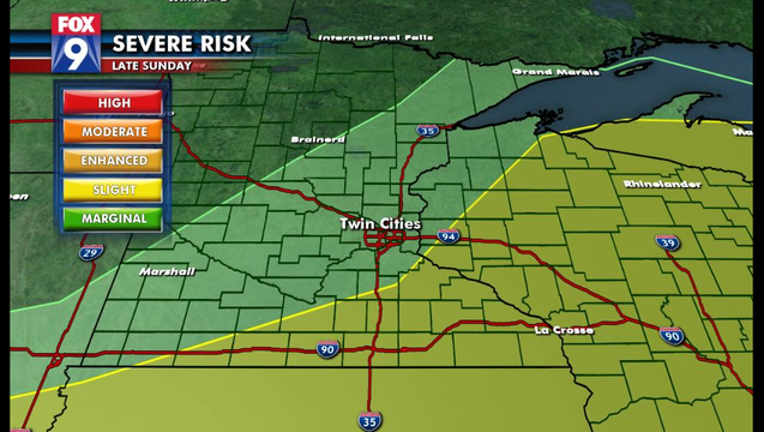 article
(KMSP) - The Twin Cities metro is under a marginal risk of severe weather Sunday afternoon into the night. The southeastern part of Minnesota and western Wisconsin are under a slight risk of severe weather.
A line of storms came through Saturday night and early Sunday morning in far southern MN and Iowa, producing 80mph wind gusts as it rocketed eastward. The storms missed the metro and all of central Minnesota, leaving undisturbed air in its wake.
But very similar atmospheric conditions remain, along with plenty of heat building. A weak mid-level wave crosses the Dakotas Sunday afternoon and evening, setting the stage for a potential severe weather event. However, it is unclear whether this midlevel wave is strong enough to pop some thunderstorms in central Minnesota, or whether they will sit near or around the stationary boundary in Iowa, which is a more likely scenario.
It's also possible, with atmospheric conditions the way they are, to get multiple rounds of storms in central and southern Minnesota starting late Sunday afternoon and going through the overnight. This is a pretty rare set up for the month of August as upper level winds are stronger than usual, so there is high uncertainty with what will actually take place over the next 24 hours or so. That said, it looks likely that at least one or two rounds of storms will develop somewhere between the I-80 corridor and the I-94 corridor.
Metro Timing:  
•    Metro: Any time after 3 p.m. - severe risk will be highest between mid-afternoon and late evening, lower severe risk overnight 
Key Threats:
•    Wind gusts of 60+ mph 
•    Very heavy rain
o    Hail to 1"+ in diameter is a lower risk
o    Tornado risk is very low but can't be ruled out