Smoke in Minnesota sky coming from Saskatchewan wildfires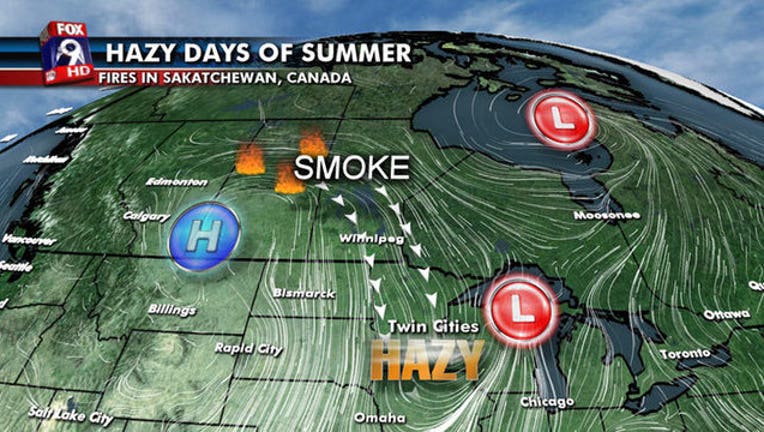 Plenty of folks have been asking about the haze and smoke lingering in the sky across Minnesota. That smoke is from wildfires burning in Canada.

Smoke from wildfires in central Saskatchewan is being carried southeast in the mid-levels of the atmosphere, and eventually mixing down to ground level here in Minnesota where we see and feel the effects with poor air quality, limited visibility and a smoky smell to the air we breathe. The silver lining is magnificent sunsets!
Minneapolis air quality worse than Beijing
Monday evening, the air quality index for the Twin Cities was at 187, with fine particle pollution reaching a level considered unhealthy for everyone. By comparison, Beijing had an AQI of 158 on Monday.

An air quality health alert covers the entire state of Minnesota, including the Twin Cities area. The smoke band should move out of the state during the next 12 hours, but smoke may return Tuesday afternoon.

While air quality briefly improved following rain showers on Sunday and Monday, heavy smoke returned to Minnesota behind the storm system. As of 9 a.m. Monday, air quality across the northern two-thirds of Minnesota had reached unhealthy levels. View current air quality conditions at http://www.pca.state.mn.us/aqi