Planning a move to the fastest-growing state in 2023? This is the weather to expect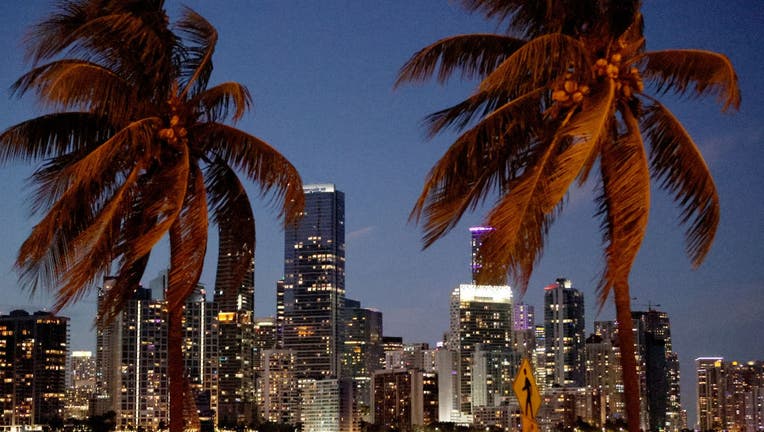 article
And the honor of the fastest-growing state goes to – Florida. 
The U.S. Census Bureau recently released data that shows the Sunshine State has grown by 1.9% since 2021.
Many think of the Sunshine State as all sun and beach, but the state has very different weather.
Here's what kind of weather you should expect if you plan to move to Florida. 
Rain
It shouldn't come as a surprise that Florida collects most of its rain in the summer. Tropical storms and hurricanes drop incredible amounts of rain in just hours. Take look back at Orlando after Hurricane Ian blew through. Ian left much of Florida underwater.
Sea breezes, a common occurrence in Florida, lead to afternoon thunderstorms too.
As the sun heats up the ground, the warm, humid air rises. With Florida's high humidity, it doesn't take long for the moisture to condense into clouds and eventually storms.
WHY DOES FLORIDA HAVE A RAINY SEASON
Pensacola and Fort Lauderdale take the prize for the most amount of rain annually. Both usually see more than 68 inches of rain a year. Fort Myers, Orlando and Jacksonville get over 50 inches per year. Key West sees the least, with only 40.44 inches per year.
Tampa – winter 7.83", spring 7.67", summer 24.2", fall 9.83"
Pensacola - winter 15.2", spring 14.6", summer 22.71", fall 15.73"
Jacksonville - winter 8.37", spring 13.27", summer 25.27", fall 21.89"
Key West - winter 5.53", spring 6.72", summer 13.23", fall 14.96"
Fort Lauderdale – winter 8.34", spring 13.27", summer 25.27", fall 21.89"
Fort Myers – winter 6.11, spring 7.97, summer 29.47", fall 13.86"
Orlando – winter 7", spring 9.63", summer 23.3", fall 11.62"
Clouds
With showers, come clouds.
If you're picking a city due to the least amount of clouds, Fort Myers should top your list. The city has the fewest amount of cloudy days in the state, averaging 99 days out of the year. Jacksonville is the cloudiest, with 144 cloudy days per year, according to the NCEI. 
The number of cloudy days each city in Florida averages yearly:
Jacksonville: 144
Pensacola: 137
Orlando: 130
Tampa: 121
Miami: 115
Key West: 107
Fort Myers: 99
7 FACTS YOU NEED TO KNOW ABOUT THE UV INDEX TO KEEP YOU SAFE
High and low temperatures
Summer everywhere in the state hovers around 90 degrees for a high and low of the mid-70s.
In the winter, Pensacola has the coolest daytime temperature, with an average high of 64.7 degrees. Jacksonville dips down to 44.9 degrees for the coolest nighttime temperature average.
High temperatures
Tampa – winter 73, spring 83, summer 90.9, fall 84.9
Pensacola - winter 64.7, spring 78.2, summer 90.8, fall 80.4
Jacksonville - winter 76.7, spring 82.6, summer 89.8, fall 85.2
Key West - winter 76.9, spring 82.7, summer 89.8, fall 85.2
Fort Lauderdale – winter 76.7, spring 82.6, summer 89.8, fall 85.2
Fort Myers – winter 76.7, spring 85.3, summer 91.4, fall 85.9
Orlando – winter 73.5, spring 83.6, summer 91.4, fall 84.2
It should not come as a surprise that the island city of Key West has the coolest summers and the warmest winters, 89.8 degrees and 66.9 degrees, respectively. They can thank the moderating effect of the surrounding water.
These averages vastly differ from the cold snap over the Christmas holidays in 2022. Much of South Florida scrambled for blankets to battle temperatures they had not felt for 30 years. Iguanas fell from trees with the chilly shock. Due to the sudden cold, the spiky, reptiles become stunned by the cold weather and fall from trees.
Low temperatures
Tampa – winter 54.7, spring 64.9, summer 76.2, fall 68.4
Pensacola - winter 45.6, spring 59.5, summer 74.6, fall 61.3
Jacksonville - winter 59.5, spring 66.8, summer 75.5, fall 71
Key West - winter 66.9, spring 72.9, summer 80.1, fall 76
Fort Lauderdale – winter 59.5, spring 66.8, summer 75.5, fall 71
Fort Myers – winter 56, spring 64.3, summer 74.4, fall 68.5
Orlando – winter 51.6, spring 60.9, summer 72.8, fall 65.6
WHEN DO IGUANAS FALL FROM TREES
Relative humidity
The relative humidity percentages did not vary that much between summer and winter.
Key West is the most humid during the days, with an average of 68% relative humidity in the afternoon. Orlando and Fort Myers have the lowest relative humidity in the afternoons, with 55%.
Annual average relative humidity per city in the morning and afternoon, respectively, according to NCEI:
Fort Myers: 88% and 55%
Jacksonville: 88% and 56%
Key West: 79% and 68%
Miami: 82% and 61%
Orlando: 85% and 55%
Pensacola: 85% and 60%
Tampa: 86% and 58%
WHAT IS THE 'FEELS-LIKE' TEMPERATURE?
Water temperatures
Atlantic and Gulf temperatures warm to 85 and 86 degrees over the summer. The big difference comes when winter arrives.
Key West's water temperatures only drop to 70.3, while every other city averages around 59 during the winter.
Water temperatures
Tampa – winter 59, spring 73, summer 85, fall 75
Pensacola - winter 57, spring 71, summer 85, fall 74
Jacksonville - winter 72, spring 78, summer 85, fall 81
Key West - winter 70, spring 78, summer 86, fall 81
Fort Lauderdale – winter 72, spring 78, summer 86, fall 81
Fort Myers – winter 67, spring 77, summer 87, fall 80
Warm water temperatures don't only lead to more bathers and spring breakers, though. Bacteria like red tide and flesh-eating bacteria bloom in the tepid Gulf. FOX Weather reported on populations of both taking off after Hurricanes Ian and Nicole.
Severe storms
The Orlando metro area is the "lightning capital" of the nation.
Situated about two miles west of Disney's Animal Kingdom resort, lies the area with the greatest lightning density of any neighborhood, registering over 1,200 lightning strikes per square mile.
NEARLY 200 MILLION LIGHTNING STRIKES HIT US IN 2022. HOW MANY HIT YOUR STATE?
Hurricanes
Just last year, Hurricane Ian and Hurricane Nicole struck the state, leaving catastrophic damage. 
Neighborhoods and even bridges to reach barrier islands were destroyed. 
HURRICANE SEASON 2022 COMES TO AN END. TAKE A LOOK AT THE SCARS LEFT BEHIND
The state has had more landfalling hurricanes than any other state. More than 40% of all 292 hurricanes that made landfall in the U.S. since 1851 have hit Florida, according to Universal Property.
Census numbers
This is the first time since 1957 that the state was rated as the fastest-growing state. However, people have been moving to Florida at a brisk pace for decades. In fact, more than nine times the number of people now call the Sunshine State home than in 1946.
HOW TO WATCH FOX WEATHER ON TV
"For the third-most-populous state to also be the fastest growing is notable because it requires significant population gains," stated the Census Bureau's report.
The population grew to 22,244,823, measured from July 2021 to July 2022. That's more than 444,000 new people minus the 27,000 that left.