Minnesota weather: Timeline of what to expect with blizzard-like conditions
MINNEAPOLIS (FOX 9) - Wednesday brought several inches of snow across much of the region, ahead of blizzard-like conditions that are expected to make travel treacherous leading up to the Christmas holiday.
Most metro area cities recorded between 5-7.5 inches of snow on Wednesday. And all that light, fluffy snow is expected to blow around for the next few days amid blizzard-like conditions Thursday-Saturday morning. 
Here's a timeline of what to expect: 
Blowing snow on Thursday
There's a lull in the action Thursday morning, but then gusty winds will cause blowing snow later in the day. 
A blizzard warning goes into effect at noon Thursday in southern and western Minnesota. And then at 6 p.m., a blizzard warning that includes portions of the Twin Cities metro will go into effect. These warnings are in effect until 6 a.m. Saturday. Meanwhile, a winter storm warning will be in effect for the rest of the Twin Cities, as well as areas north and east of the blizzard warning area. 
This will create hazardous travel conditions on Thursday. Expect whiteout conditions with blowing and driving snow, and hazardous to near-impossible travel conditions at times from Thursday into Saturday morning.
Meanwhile, it will also be frigid, with a high of around 4 below zero and windchill will be around 40 below at times. 
Low visibility Friday
The hazardous travel conditions continue on Friday, with blizzard-like conditions creating low visibility throughout the day and into Saturday morning. 
The National Weather Service says the possible ground blizzard and dangerously cold conditions Thursday and Friday could make travel impossible and life-threatening. A high of zero degrees with windchill as cold as 40 below is possible Friday.
Conditions improve Saturday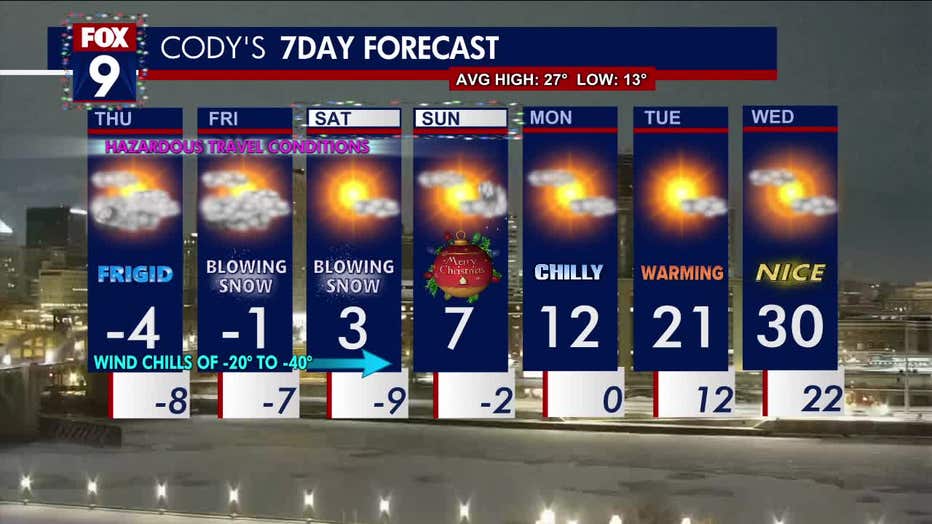 Here's the seven-day forecast, as of Thursday morning. (FOX 9)
The blowing snow will calm down Saturday morning, but the frigid temperatures continue. The high on Saturday is 3 degrees for the Twin Cities with a low of 10 below zero. 
Sunday's high will be around 8 degrees, with a low of 3 below. Monday will see a high in the teens, while it'll be warmer on Tuesday.