Minnesota weather: More snow expected for the weekend
(FOX 9) - If you've been thinking it's been a really snowy winter, you wouldn't be wrong. And there's even more snow expected this weekend. 
As of Saturday morning, the Twin Cities have seen 78.1" of snow, making this the 11th snowiest winter of all time. With the snow that will fall from Saturday into Sunday, we will move into the top 10. 
Snow has pushed into Western Minnesota Saturday morning and will become more widespread through the afternoon and evening hours, falling heavy at times. The heaviest snow is expected across West-Central Minnesota where 8 inches or more could fall. Most of the rest of the state can expect to see at least 2 inches. 
A Winter Weather Advisory has been issued for Central Minnesota. Part of Northern Minnesota is under a Winter Storm Warning, with Northwestern Minnesota under a Blizzard Warning where gusty winds will cause visibility concerns.
There will be a brief lull in the snowfall overnight, with light flakes continuing into Sunday. Expect less than 1 inch of accumulation on Sunday. 
Temperatures will stay relatively mild with the snow as Saturday's high is in the low 30s. But, the winds will pick up in the afternoon reaching 15–25 miles per hour and gusts possibly higher. 
There will be light snow on Sunday morning with temperatures reaching in the mid-30s in the Twin Cities. Monday will cool down into the 20s before warming back up later in the week with a possibility of reaching 40 degrees on Wednesday and melting some of the record snow.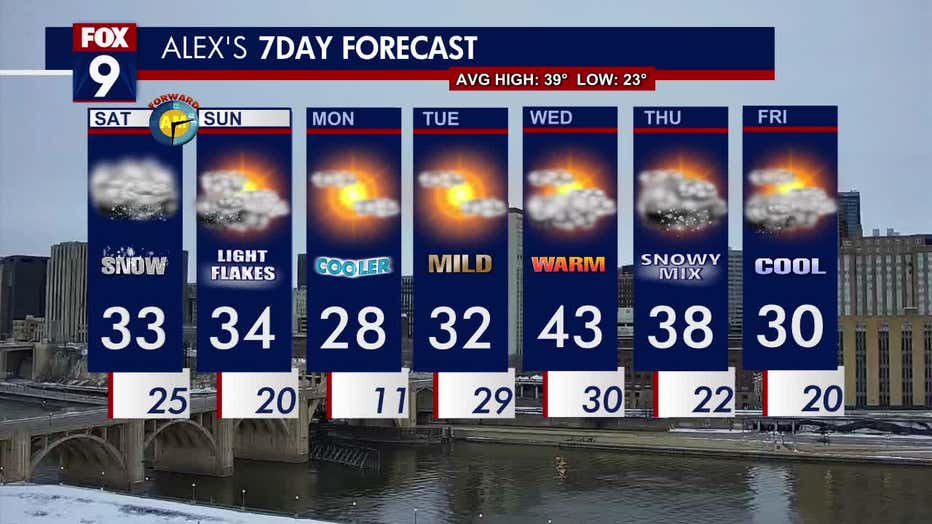 Take a look at the seven-day forecast (FOX 9)