Flash floods swamp Duluth, I-35 Monday night: Video
DULUTH, Minn. (FOX 9) - Heavy rains caused flash flooding in portions of Duluth on Monday night.  
The National Weather Service issued a flash flood warning for the northern half of Duluth, where at least 1 to 3 inches of rain had fallen. However, radar indicated a potential 3 to 6 inches fell in portions of the city. 
Traffic cameras showed some areas of Interstate 35 flooded as cars slowly inched through the water. It's unknown whether any injuries or damage were reported.
The flash flood warning lasted through early Tuesday morning, with the rain expected to hang around through part of the day.  
Flash flooding closes Superior Street 
Heavy rainfall caused significant erosion in the construction zone at First Avenue East, washing out material into the roadway and making Superior Street impassable at Lake Avenue and Second Avenue East.
"The contractor is working as quickly as possible to remove the material and to reopen Superior Street. The road is expected to reopen by the end of the day today," the City of Duluth said in a press release Tuesday. 
The recent erosion will likely delay the reopening of First Avenue East, but a contractor and the city will first determine how much damage the rain caused.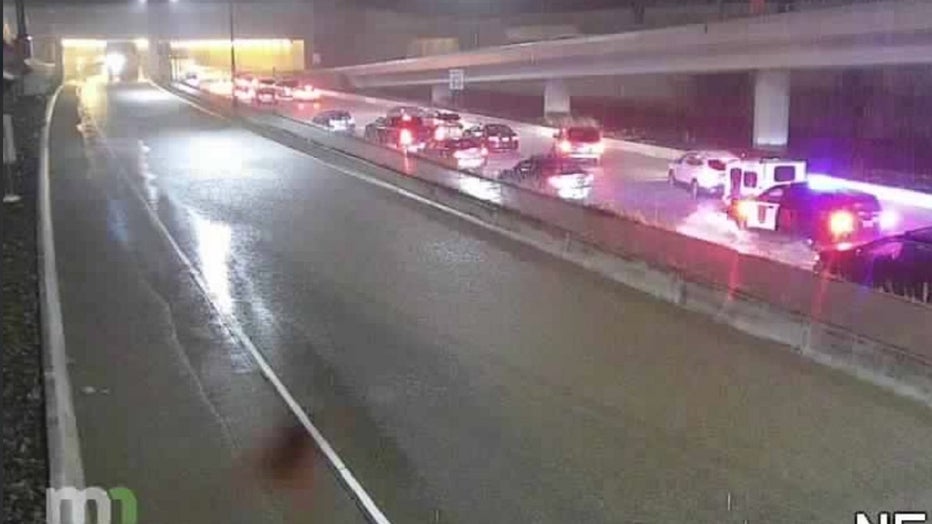 MnDOT traffic camera captures flooding at I-35 Southbound at Lake Avenue in Duluth