Best party ever: BBQ in a jar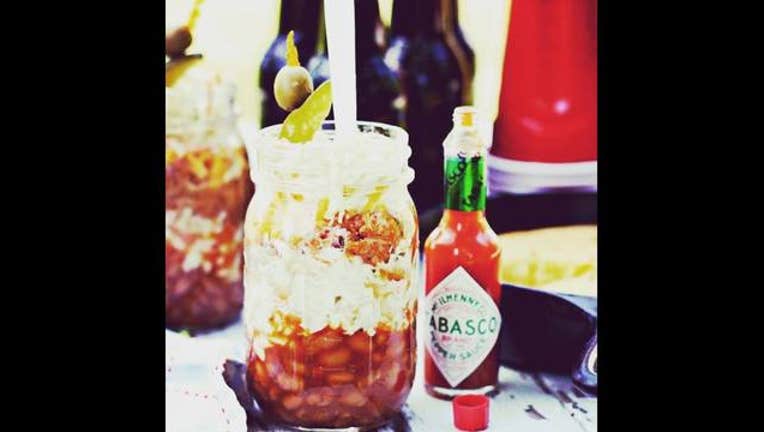 What could be better than assembling your favorite BBQ fixings into a jar and devouring them?
For a great party idea, have several types beans, slaw and meat so people can customize their BBQ their way. Smokey or sweet beans, citrus or spicy pulled pork, creamy or vinegar slaw – topped off with garlic, sweet or spicy pickles.
BEANS
Grandma's BBQ Baked Beans
http://www.rosssveback.com/2014/05/grandmas-bbq-baked-beans.html
Cola Baked Beans
http://www.rosssveback.com/2014/05/cola-baked-beans.html
Pennsylvania Dutch Baked Beans
http://www.rosssveback.com/2014/05/pennsylvania-dutch-baked-beans.html
Root Beer Baked Beans
http://www.rosssveback.com/2014/05/root-beer-baked-beans.html
Spicy Sriracha Baked Beans
http://www.rosssveback.com/2014/05/spicy-sriracha-baked-beans.html
Smokey Baked Beans with Chorizo
http://www.rosssveback.com/2014/05/smokey-baked-beans-chorizo.html
SLAW
Garlic Buttermilk Slaw
http://www.rosssveback.com/2014/05/garlic-buttermilk-slaw.html
Eastern North Carolina Slaw
http://www.rosssveback.com/2014/05/eastern-north-carolina-slaw.html
Celery and Blue Cheese Slaw
http://www.rosssveback.com/2014/01/celery-blue-cheese-slaw.html
Central Texas Slaw
http://www.rosssveback.com/2014/05/central-texas-slaw.html
Western North Carolina Slaw
http://www.rosssveback.com/2014/05/western-north-carolina-slaw.html
Toasted Coconut Slaw
http://www.rosssveback.com/2013/06/toasted-coconut-slaw.html
Memphis Slaw
http://www.rosssveback.com/2014/05/memphis-slaw.html
South Carolina Slaw
http://www.rosssveback.com/2014/05/7290.html
PULLED PORK (also works with beef)
BBQ Sauce Pulled Pork
http://www.rosssveback.com/2014/05/bbq-pulled-pork.html