Zimmer: 'We have everything in front of us'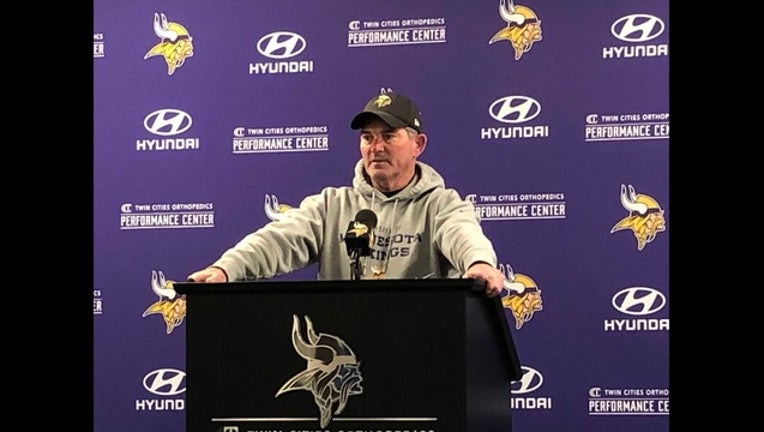 EAGAN (FOX 9) - Two teams with playoff aspirations and equal amounts of desperation meet Sunday at U.S. Bank Stadium.
The Minnesota Vikings (6-6-1) host the Miami Dolphins (7-6) in a match-up where one team's percentage of a playoff berth greatly increases with a win. The other will be left searching for more answers with two weeks to go. Even after the loss at Seattle Monday, the Vikings still have a better than 80 percent chance of making the NFC playoffs and are currently the No. 6 seed.
After Sunday, they travel to Detroit and host Chicago to end the season. In the AFC, Miami is currently on the outside looking in. They need wins and help to get in the postseason.
The last time the Vikings played an AFC opponent at U.S. Bank Stadium, they played lifeless and lacked emotion in a 27-6 loss to the Buffalo Bills. The Vikings have lost three of their last four games, including consecutive losses to the Patriots and Seahawks. But they still mostly control their own destiny, as long as they beat the Dolphins.
"We've had everything in front of us. We knew it would be tough going to New England, knew it would be tough going to Seattle. We didn't get those games done, but we still have everything that we need to do in front of us and if we go out and play the way we're capable of playing, we have a chance to do what we need to do," Vikings coach Mike Zimmer said.
The keys to the Vikings' offense are now in the hands of Kevin Stefanski after John DeFilippo's dismissal on Monday. The No. 30-ranked rushing offense in the NFL wants to get back to running the football. There should be opportunities as the Dolphins allow 139.5 yards per game, 29th in the league, and 4.7 yards per carry.
The Vikings will need that run game as Miami will be looking to get after Cousins. Defensive end Cameron Wake has the second-most sacks in the NFL since 2009. The Dolphins are also opportunistic in the secondary with 19 interceptions, second only to the Bears. Linebacker Kiko Alonso leads the Dolphins with 116 tackles this season, and has three interceptions.
The Vikings dodge a potential bullet as cornerback Xavien Howard, who is tied for the NFL lead with seven interceptions, is unlikely to play Sunday due an injury.
Regardless, it's a test for a Minnesota offense going through its own challenges this week.
"Coach Flip took the blame for our offense, but we need to turn this around ourselves and make sure we prove we're a good offense," wide receiver Adam Thielen said. "We have to put points up for our defense, they've been playing too well for us not to do anything."
The Vikings' defense will be tasked with containing the rushing duo of Frank Gore and Kenyan Drake. Gore is in his 14th NFL season and will be making his 121st consecutive start. He's currently fourth in career rushing yards and is fifth-best running back in yardage since 2015. Drake scored on the now famously-titled "Miami Miracle" that gave the Dolphins a walk-off win over New England last week.
The Dolphins also lead the NFL with 14 passing touchdowns of at least 20 yards, so they're not afraid to take chances down the field.
"Frank Gore is a tremendous back. Very physical, great runner, great vision. He's been a great back in this league for a long time," Zimmer said. Drake is a heck of a back. They're very similar to the running backs we played last week, very strong, physical runners. It's a credit to him (Gore) that he's been able to do it this long."
The Dolphins have won their last three match-ups against the Vikings, but the two teams haven't played since 2014.
Vikings center Pat Elflein said it best earlier in the week. There's a definite sense of urgency in the locker room, and everyone knows what's at stake. The Vikings can take a major step toward the playoffs with a win Sunday.
"It's just going out and playing football and doing what they've been taught to do for a long time. Everybody understands the stakes of this particular game and the next couple games. Our guys are pretty smart guys, they understand that," Zimmer said. "I have a lot of confidence in this group. We have really good guys on this team, they understand where they're at. There's obviously pressure, but there's pressure every single week."
The Vikings were in a pressure situation Monday night, and it didn't go well. The beauty of the NFL is that there's always another opportunity, until they play themselves out of one.