Wild star Kirill Kaprizov won't blame playoff struggles on injury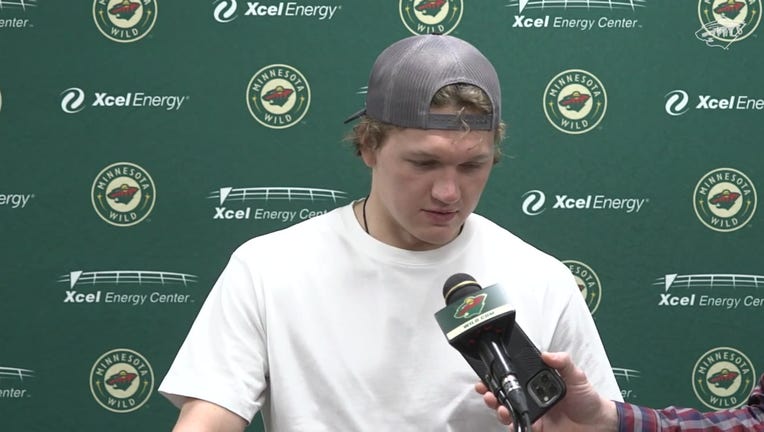 article
MINNEAPOLIS (FOX 9) - It wasn't the Stanley Cup Playoffs that Kirill Kaprizov had in mind, but the Minnesota Wild star winger isn't blaming it on injury.
Kaprizov suffered a lower body injury on March 8 after taking an awkward fall following a hit from Logan Stanley of the Winnipeg Jets, and missed nearly a month. He returned before the end of the regular season, and led the Wild with 75 points and 40 goals in 67 regular season games.
It didn't translate to the playoffs. Kaprizov scored in the first period of Game 1 against the Dallas Stars, and it was his only point of the series. Speaking Monday, he was more upset about the season being over.
"I hate losing, I hate losing in the first round at home. We want more as a team and we've got to figure out what we've got to do right to make sure it doesn't happen again," Kaprizov said through his translator.
He reiterated that his performance in the playoffs was not injury-related. Rather, it was more that he was out a month and struggled to find his rhythm again.
"I was good to go in the playoffs. My leg is feeling OK, didn't really bother me. At the end of the day, obviously it didn't help getting hurt right before the playoffs, but that's hockey. That's what happens, things happen and I can't blame that for what happened and my performance in the series loss," Kaprizov said. "To be honest the leg was fine. I know I didn't look the part, I didn't look like my performance and my shape and like I typically do. I think that was more a factor of not enough ice time, not many games, taking a month off right before playoffs. That was moreso than the actual injury itself, not getting any ice, not getting enough games to get into the rhythm."
MATT BOLDY: 'IT'S NOT PRESSURE, IT'S EXPECTATION'
While Kaprizov went more than 370 straight game minutes in the playoffs without a point, winger Matt Boldy didn't fare a lot better. 
Boldy's 63 regular season points were third on the team. His 31 goals were second behind Kaprizov, his 32 assists were fourth. In six playoff games, he didn't score and had just three assists. To say he was frustrated speaking with media on Monday is an understatement.
"To be honest I don't think I played well and that's my opinion. Just wasn't what it needed to be and obviously it sucks. It's not what you want to have happen, feel in a way you let your teammates down," Boldy said. "It's another thing to learn from and don't let it happen again."
The Wild failed to advance out of the first round of the playoffs for the seventh straight time. They haven't won a playoff series since 2015. Their top offensive players didn't produce when they were needed the most, but Boldy said it wasn't about the pressure that comes with the playoffs.
"It's not pressure, it's expectation. It's how you think of yourself, wanting to be better, wanting to be the guy who has the puck and make plays, make the difference in the game," Boldy said. "For me that's not pressure, it's expectation and it's something you want to live up to."