Wild riding 4-game win streak amid changes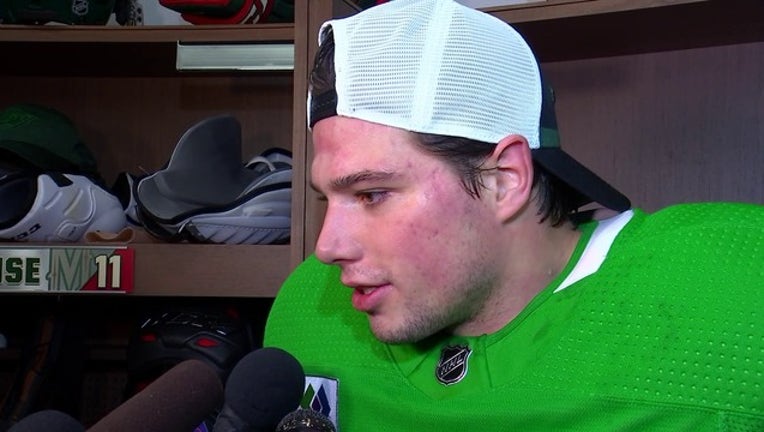 ST PAUL (FOX 9) - The Minnesota Wild had a hectic February, with 14 games in a 26-day stretch.
Add to that a significant roster shakeup with the NHL trade deadline on Monday, and you have some players in the locker room just making sure they have everybody's name right before they take the ice. The Wild ended February stealing a win at Winnipeg for its fourth straight victory. Jason Zucker scored the game-tying goal on the power play with less than 90 seconds left in regulation.
Joel Eriksson Ek got the game-winner 24 seconds later. They were staring at another loss, and instead left the ice Tuesday night with two points, feeling good about the direction they were headed. The Wild finished the month with four straight wins after a 1-6-3 start out of its bye week.
"You've got to keep it continued and that's going to be a difficult thing, but the fear of losing is a great motivator," Wild coach Bruce Boudreau said. "We want to keep going and doing what we're doing. If we do, we'll be competitive every night."
With 18 regular season games left, the Wild is currently in the No. 7 spot in the Western Conference at 68 points. They're slightly ahead of Colorado, just one point clear of Dallas and three points clear of Arizona. The Wild are three points behind Las Vegas for the No. 6 spot, and six points behind St. Louis.
The good news for the Wild is that they're 5-4-1 in their last 10 games, and haven't lost since getting booed off their home ice in a 4-0 loss to the Anaheim Ducks on Feb. 19.
The bad news is the schedule doesn't offer much of a let up, with four of the next five games on the road and 12 games in a 22-day span, starting Saturday at Calgary.
"I think it's been pretty consistent hockey from the whole group. Up and down the lineup we've had great contributions from some of the new guys," center Eric Staal said. "Now it's about carrying that momentum and riding that wave as long as you can."
On the same day players around the NHL were being dealt to various teams, including Kevin Fiala to the Wild, Staal signed an extension that will keep him in Minnesota for the next two seasons. Staal is second on the Wild in goals (18) and points (43).
He has points in four straight games, and had been the subject of trade rumors up until Monday's deadline. A meeting with management sealed that he would stay with the Wild, and he signed the extension that afternoon. The uncertainty weighed on Staal.
"It was difficult at times just with the amount of people we've gotten to know over the years and were interested, just wanted to know what was happening and didn't really have a lot of answers," Staal said. "Now it's nice to have an answer and put that kind of all to rest and just focus on being a part of this organization and enjoying playing in front of the fans here."
While Staal isn't going anywhere, several other Wild players did and were replaced by younger talent. Nino Niederreiter, Charlie Coyle and Mikael Granlund – all traded. In their place: Victor Rask, Pontus Aberg, Ryan Donato and Kevin Fiala.
Donato scored the game-winner in overtime against St. Louis on Sunday, and assisted on Zucker's game-tying goal at Winnipeg. Donato has six points in four games since joining the Wild.
"I've been lucky to have a lot of opportunity and have the puck go in. Sometimes you might be able to create all the chances and it never goes in," Donato said. "So it's been going in lately, and hopefully it can continue to do that."
Fiala has been with the Wild for just a few days, and got his first full practice in on Thursday.
"Still a little bit confused, I can say that, but very excited. Just Paul Fenton, he's believing in me and it's exciting to come here and start over," Fiala said. "I feel it's going to be a great organization for me for sure."
Fenton's moves got the Wild younger, and in a hurry. Donato and Fiala are both 22. Aberg and Rask are 25. Fenton said Monday his goal was to get the Wild more speed and skill, and in the process they happened to get younger.
The stress and uncertainty of the NHL trade deadline is gone. The moves have been made, and now there's 18 games left to determine the Wild's playoff fate.
"I told them this is what we have so you're our group going forward. They shouldn't have any worries about anything on the outside other than playing hockey," Boudreau said.
The Wild now faces five games in a seven-day stretch, with four of its next five away from Xcel Energy Center. Four of those five opponents are playoff teams.