Wild need 3 wins, help to make NHL Playoffs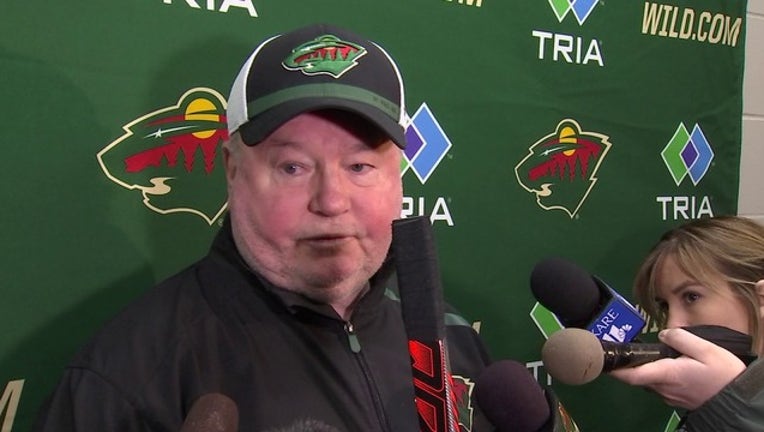 ST PAUL (FOX 9) - Bruce Boudreau hasn't missed the NHL Playoffs since 1997, 22 years ago. The Minnesota Wild has been a playoff team six straight years, despite early exits in each of the last three seasons.
Both streaks are in jeopardy of being over after the Wild lost 4-0 at Arizona Sunday night. With three regular season games left, the Wild is currently in the No. 10 spot in the Western Conference with 81 points. They are four points behind Colorado for the No. 8 spot in the playoffs.
The Avalanche play at St. Louis Monday night and host Edmonton Tuesday, which means the Wild will be Blues and Oilers fans the next two nights. The reality is the Wild need to win all three of its remaining games, and get some outside help, to even have a chance at the playoffs.
"The emotions are we're not out yet so you've just got to bear down and do what you can and win. Obviously the balls really have to fall in the right order, but nothing is going to work if you don't win three in a row," Boudreau said after Monday's practice. "We'll go until we can't go anymore."
Boudreau isn't giving up, at least not yet. That's despite making the bold statement back in February that the Wild would be a playoff team. He has no regrets even with the position they find themselves in with three regular season games left.
"That was something you said to build the team up. I have no regrets about that, that's ridiculous," Boudreau said.
The Wild is 3-6-1 in its last 10 games, and they've lost three of their last four to put themselves in a precarious position for the final week of the season. In their last six games, the Wild have scored seven goals and they've been shut out twice.
Scoring has been an issue for much of the season. The Wild are 27th in the NHL in scoring at 2.59 goals per game.
"It's very frustrating. You see the chances, you're getting chances. Some days you've just got to bear down and put them in and right now it's not happening for us," said winger Jason Zucker, who had two assists in a win at Las Vegas on Friday, but hasn't scored since March 14 against Dallas.
The Wild also hasn't been healthy. Zach Parise didn't play Sunday, and has missed four straight games with a lower body injury. He was on the ice practicing on Monday, but isn't sure if he'll play Tuesday when the Wild host the Winnipeg Jets.
Parise leads the Wild with 26 goals and 59 points. But he's forced to sit and watch while the Wild's playoff chances slip away with a combination of a loss, or a team in front of them in the playoff standings winning.
"It's terrible, especially where we were. Where we were almost at a point where we kind of controlled where we went. You drop a few games and just like that, you're scoreboard watching or hoping teams lose," Parise said. "It's not a fun spot to be in, but that's where we are."
It's not a good place to be in, but the reality for the Wild is they'll be keeping an eye on Colorado and Arizona for the final week of the regular season. In addition to traveling to St. Louis and hosting Edmonton, the Avalanche host Winnipeg Thursday and travel to San Jose on Saturday.
Arizona hosts the L.A. Kings Tuesday, travels to Vegas Thursday and hosts Winnipeg to end the regular season Saturday. For any of it to matter, the Wild has win its last three games against Winnipeg Tuesday, the home finale against Boston Thursday and at Dallas on Saturday.
Normally having two out of your last three on home ice would be an advantage. That's not necessarily true for the Wild, who have the NHL's worst home record at 15-17-7.
"For us it's win or go home and that's it. It doesn't matter what we're watching or seeing, we have to take care of business on our end," Zucker said.
The Wild haven't won enough on home ice, they haven't stayed consistently healthy and they haven't scored enough to win consistently. It's a recipe that could have them out of the Stanley Cup Playoffs fro the first time since the 2011-12 season.