Wild hope home ice can spark next win streak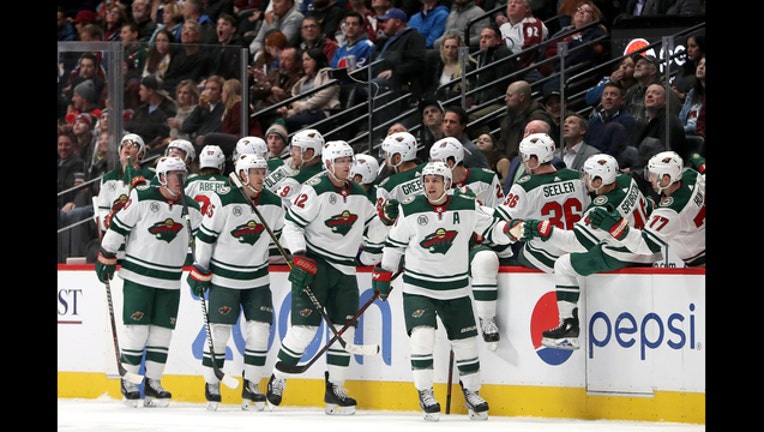 ST. PAUL, Minn. (FOX 9) - The Minnesota Wild knows what's at stake over the last 26 games. They need to start fast, and they need to string together wins. They need points, and they don't want to be scoreboard watching in March.
The Wild began a stretch of 14 games over 26 days in Dallas at the start of February comfortably in playoff position and looking to keep it that way, despite key injuries and a loaded schedule. The start back has been anything but comfortable, and the Wild are now in a dogfight for their playoff lives with 26 regular season games left.
The Wild are 1-3-2 since their bye week after Sunday's 2-1 loss at the New York Islanders. They're in the No. 8 spot in the Western Conference at 57 points, but are only two points clear of Vancouver. Division rivals Colorado and Chicago are each just four points back.
It's a fair bet that Wild coach Bruce Boudreau will have some sleepless nights ahead. The Wild's recent losses have either been one-goal games, decided by an empty-net goal, lost in overtime or shoot-out situations. They've had chances in every game despite just one win in six tries since the bye.
"I don't want to keep repeating myself but we play hard every night. We don't get beat by six goals or five goals, it's either an empty-net goal or it's a one-goal game," Boudreau said. "So we'll keep going and hopefully one day we'll get a little bit of puck luck and we'll win three, four, five in a row before this thing is over."
The Wild can take solace in the fact that they'll be in their own beds and on their regular schedules for at least the next week. A four-game home stand starts Tuesday as the Wild hosts the Philadelphia Flyers. The home stand continues with the New Jersey Devils, St. Louis Blues and ends with the Anaheim Ducks.
It's a big stretch with three out of the four after that on the road. The problem? The Wild are almost better on the road (14-14-1) than at Xcel Energy Center (13-10-4). Since Nov. 13, the Wild is 7-10-3 at Xcel Energy Center.
Their last home win came Jan. 19 against the Columbus Blue Jackets.
"It's a big section in our last 20 or so games that we really have to take advantage of just being at home," said forward Marcus Foligno. "We obviously know our home record isn't the best and nothing compared to what it was last year. We could do a lot with this home stand and make up for some points and be in a good spot at the end of it."
The Wild are still making roster adjustments, and have two weeks until the NHL trade deadline. General Manager Paul Fenton traded Justin Kloos and Nino Neidereitter, and acquired Pontus Aberg and Victor Rask.
They had to do more roster shuffling after Mikko Koivu's season-ending knee injury. It meant a call-up from Iowa for Luke Kunin and Kyle Rau, and more playing time for Joel Eriksson Ek. Ek responded by scoring goals in two straight games.
He's played at least 14 minutes in three straight games.
"Of course it helps to play more. You get more involved in the game, having the puck a little bit more, stuff like that, which helps. It's been good so far," Eriksson Ek said.
Mikael Granlund broke a 14-game streak without a goal after scoring Sunday. It was just his third goal in his last 39 games. The Wild also need to figure out a way to start faster. In five of the six games out of the bye, the Wild's opponent has scored first.
But the message was clear from Monday's practice heading into the four-game home stand: The Wild need to string some victories together. To get some confidence back, try to gain some breathing room in the standings and feel good about what's happening on the ice.
"It's up to us, how we play. It's a mindset, it's a mental thing. It's everything, and you focus one game at a time," center Charlie Coyle said. "You can't just say let's go on a five-game win streak. We've got to focus on one game, put all our efforts towards that and move on from there."
There needs to be a sense of urgency in the locker room, and everybody knows it. Losing has to sting, and they know teams chasing them in the standings aren't far behind. St. Louis, once left for dead, has won six straight games. The Blackhawks have won seven straight.
It starts Tuesday against the Flyers. Philadelphia is currently 11th in the Eastern Conference, but the Flyers handed the Wild a 7-4 loss when the two teams played back on Jan. 14.
"Every game that you lose from now on is going to hurt so you've got to win them. Really the playoffs have started for us and a lot of teams around the league," Foligno said. "A lot of teams are putting some winning streaks together, that's what we need to start doing."