Vikings hold first fully-padded training camp practice of 2022 season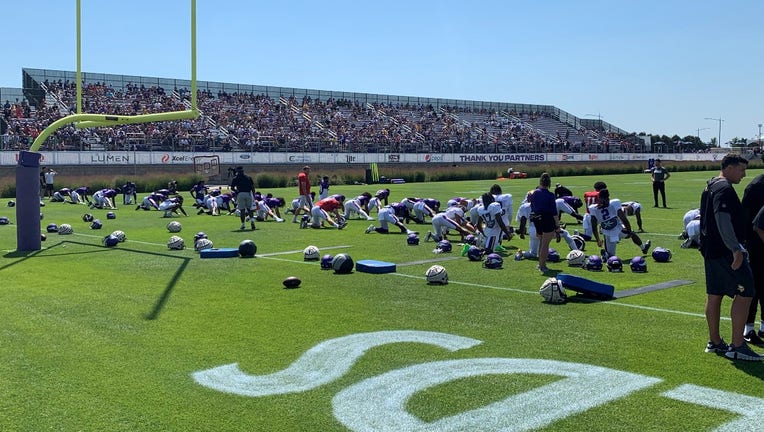 article
MINNEAPOLIS (FOX 9) - It could not have been a more perfect summer day at TCO Performance Center on Monday as the Minnesota Vikings put on full pads for the first time this season.
Temperatures were in the 80s, humidity was low and there was barely a cloud in the sky as thousands of fans took in the fifth practice of training camp, and the second one open to the public. For the players in more physical positions on the football team, it probably felt similar to Christmas morning.
"Every time putting the pads in your pants and putting your jersey over your shoulder pads, you just feel like a kid again that first time you put pads on," defensive tackle Harrison Phillips said. "It was great, and guys were flying around."
For the Vikings under a new coaching staff, it's also about finding a balance. Players want to be physical, but there's still not full tackling and you don't want anybody getting injured less than a full week into training camp.
"Clearly we're not taking each other to the ground, we're trying to protect each other, get everybody to game day. But at the same time, stay competitive and give it all we got," linebacker Jordan Hicks said.
"It's about not losing your minds when the pads come on, knowing what your responsibility is and just running to the ball. The way we're doing things is extremely smart, and it's going to set us up for success in the future," linebacker Eric Kendricks said.
Here are a few highlights from Monday's padded practice at TCO Performance Center:
Kirk Cousins had an up-and-down day, hitting KJ Osborn for a pair of touchdowns in team situations. Cousins also fumbled on a play where Danielle Hunter would've gotten the recovery if the play had been live. He also was sacked in a team situation.
The defensive highlight of the day came from Eric Kendricks, who stepped in front of a Cousins pass headed for either Johnny Mundt or Dalvin Cook, and picked it off. It was the third time this training camp Cousins has been intercepted.
Kendricks talked about what he saw on the play after practice.
"The ball. That was my man, the ball was in the air. Ball in the air belongs to me, so I'm taking it," Kendricks said.
Linebacker Troy Dye also forced and recovered a fumble in a team situation.
The only real injury note on the day appears to be minor. Irv Smith Jr. left the middle of practice with a trainer and headed inside the team facility. He came back on the field before the end of practice, but watched from the sideline without a helmet. It's something to monitor, with the fourth-year tight end coming off a torn meniscus that ended his 2021 season.
Cousins threaded the needle to Justin Jefferson for a long gain, beating Cam Dantzler in coverage.
Cousins later found Bisi Johnson for a long gain, threading a throw between Dantzler and Cam Bynum in coverage.
Cousins went through his progressions in a red zone situation and came across the field to hit Adam Thielen for a touchdown in the back corner of the end zone.
KJ Osborn was the offensive star of the day. He made a diving catch at the pylon in a red zone drill for a touchdown. In the same set of plays, Cousins hit Osborn in the corner of the end zone for a score.
There were at least three fumbles forced by defensive players on Monday. A few were after plays were over, but there's a clear emphasis on the defensive side of stripping the ball when an offensive player might not be expecting it.
The Vikings will work out Tuesday and Wednesday in Eagan before taking an off day on Thursday.