Vikings WR KJ Osborn details pulling man from burning car in Texas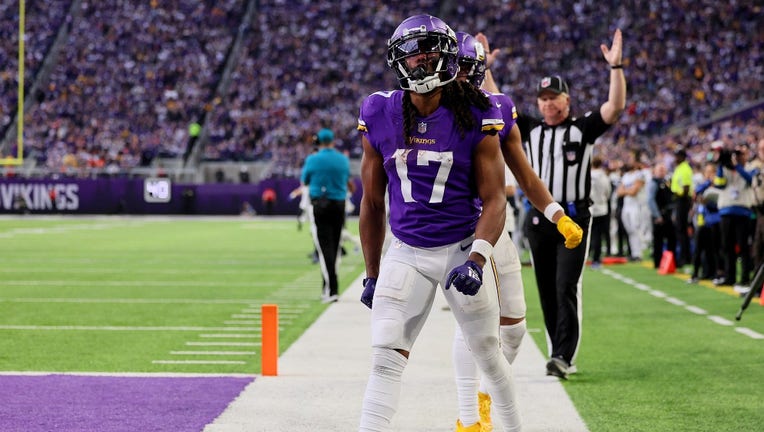 article
MINNEAPOLIS (FOX 9) - Most Minnesota Vikings fans know KJ Osborn as the team's No. 3 receiver who had a career game in a historic comeback against the Indianapolis Colts to win the NFC North.
Osborn now joins three others in being labeled a hero, and it has nothing to do with football. Osborn was in Austin, Texas Sunday night riding home in an Uber when a vehicle sped in front of them and crashed head-on into a pillar under a bridge. The vehicle burst into flames.
He went on Adam Schefter's podcast on Tuesday to talk about the crash in chilling detail.
Osborn, his Uber driver and two people from a nearby vehicle rushed to the driver's aid. With the car in flames, they were able to get the victim out of the car after he got to the passenger side of the vehicle. Osborn then carried the driver 10-15 yards before first responders could take over.
"In my head I'm thinking this car could blow up at any second and it would all be over. My Uber driver, he went right up to the car, opened the door to see if the guy was alive. I'm like man, this guy is brave. We seen that the guy is alive and we're yelling, but he couldn't move. The car is in flames the whole time and we're trying to get him out, the guy was able to muster enough strength to move his upper body to the passenger seat," Osborn told Schefter.
"I ran up, we initially pulled him out the car. We get him out the car and that's when I picked him up, he's bleeding on my shirt and everything, I pick him up and carry him about 10-15 yards, by then the ambulance and firefighters came. They got the flames to go down. They came back and told us we saved that man's life, he wouldn't have been able to get out of that vehicle without our help."
Osborn and the three others risked their lives to keep a stranger alive.
"It was definitely a threat to me being burned just being in the area. Initially I'm looking at the car and I'm like I don't know if I should go up to that car. I didn't want to go up to the car and catch a flame. I can go up and drag this guy out of this car, but I was just so scared because I know the moment I walk up to this car it could blow up. That was in my head the whole time," Osborn said. "When I seen it was time to get him out, I ran down there. Hood was in flames, but I didn't feel much heat. We moved fast."
To make the story more dramatic, Osborn missed his first Uber driver. If he hadn't, there's no guarantee he would've witnessed the crash or been able to help.
The man went to the hospital with an ankle injury and had blood coming from his mouth, but is expected to recover. Osborn plans to check up on him at the hospital. He was only in Texas to work out with his trainer. He's normally in Miami, where he went to college and is pursuing a master's degree in criminal justice. After football, he wants to work in the FBI or Secret Service.
"He was alive, which was obviously the greatest blessing. I was at the exact right place at the right time," Osborn said. "That was kind of that type of situation, that was live bullets. I'm just grateful I was in a position to be able to help him. It was definitely the craziest experience of my life. I'm a normal person just like everybody else, this is real life."
Osborn was a fifth round pick by the Vikings, in the same class as star Justin Jefferson. In 43 career games, Osborn has 110 catches for 1,305 yards and 12 touchdowns. He could be in for a much bigger role if the Vikings can't work something out with Adam Thielen, who is due to make $19.9 million in 2023.