Vikings WR Justin Jefferson named MVP finalist, Kevin O'Connell snubbed for coaching honor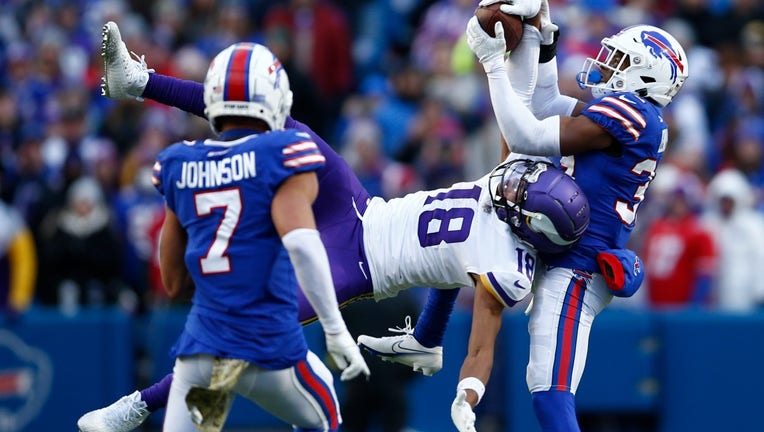 article
MINNEAPOLIS - Justin Jefferson had one of the best regular seasons in NFL history, and now the Minnesota Vikings wide receiver is one step closer to being named the league's Most Valuable Player.
Jefferson on Wednesday was named one of five finalists for the annual award that goes to the best player in football. The other four – Patrick Mahomes, Josh Allen, Joe Burrow and Jalen Hurts, are all quarterbacks. Not only is Jefferson the only receiver to be a finalist, he could become the first ever at his position to win the award.
Jefferson was also named a finalist for the NFL's Offensive Player of the Year, joining Mahomes, Hurts and Tyreek Hill.
Jefferson led the NFL with 128 catches for 1,809 yards, and his eight touchdowns tied for 11th in the NFL. Jefferson had nine more catches than Hill, and 99 more receiving yards. He came up short of Calvin Johnson's NFL record 1,964 receiving yards in a single season, but has the Vikings' franchise record and the NFL record for receiving yards in a player's first three seasons.
The NFL MVP Award will be announced on Feb. 9, as part of Super Bowl week.
KEVIN O'CONNELL NOT NAMED FINALIST FOR COACH OF THE YEAR
The NFL also announced Wednesday its finalists for AP Coach of the Year, and Vikings coach Kevin O'Connell was not among them.
The five finalists are Nick Sirianni of the Philadelphia Eagles, Kyle Shanahan of the San Francisco 49ers, Brian Daboll of the New York Giants, Sean McDermott of the Buffalo Bills and Doug Pederson of the Jacksonville Jaguars. Sirianni and Shanahan will meet this weekend for the NFC title.
O'Connell was not named a finalist despite leading the Vikings to 13 wins in his first season as a head coach, the franchise's first NFC North Division title since 2017 and their first home playoff game since the "Minneapolis Miracle."
O'Connell became the first Vikings' coach to win a division title in his first season since Dennis Green.