Vikings, safety Josh Metellus agree to 2-year extension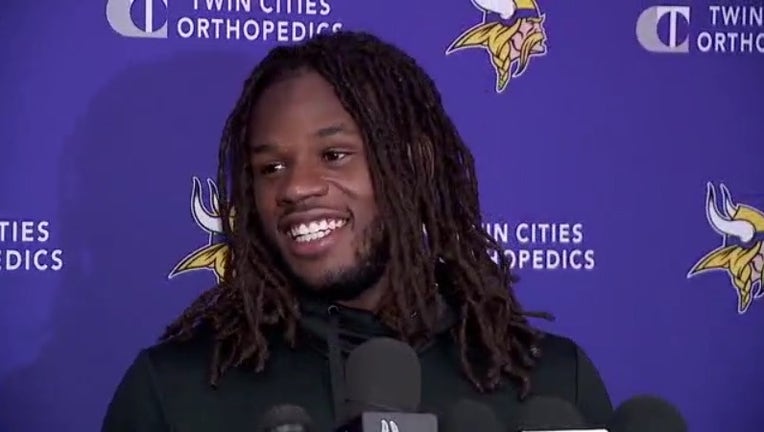 article
MINNEAPOLIS (FOX 9) - Josh Metellus got to TCO Performance Center Thursday morning, and one of the first people to greet him on arrival was special teams coach Matt Daniels.
The two shared a big hug after Metellus and the team agreed to a two-year contract extension Wednesday night. The Vikings announced it on Thursday. According to ESPN's Adam Schefter, it's a two-year extension worth up to $13 million and includes $6 million guaranteed. 
Metellus then met with reporters, who asked how he was.
"I'm doing great. Quickest answer ever," Metellus said with a laugh.
Metellus is entering his fourth NFL season and was playing on the final year of his rookie contract. He was a sixth round pick out of Michigan in the 2020 NFL Draft. He did not make the initial 53-man roster, ended up on the practice squad and worked his way up ever since.
"I think about a conversation me and Kwesi had, just saying a guy like me, sixth round pick, got cut from the first 53, practice squad working my way up, I'm here four years later signing an extension. It shows a lot when a guy like me gets the extension, the reward of working hard. It's hope for a lot of people in my position," Metellus said Thursday. "I just want to be that hope for somebody out there, keep working hard and it's going to pay off."
In 48 career games, Metellus has 64 tackles, six passes defended and one interception. He's been a master on special teams, a role he takes great pride in, and has lead the unit in tackles in two of the last three seasons. Metellus is expected to have a bigger role in defense this year under new coordinator Brian Flores. He's been at safety, showed some flashes at linebacker and will even be relied on in the secondary.
Metellus is also a team captain for the second straight year, one of eight for the Vikings in 2023, and talked Monday about getting the honor during an open locker room session at TCO Performance Center. Vikings players vote for their own teammates to be selected captains.
Metellus didn't say much about celebrating the new deal and a longer stay in Minnesota. He's focused on Sunday's season-opener against the Tampa Bay Buccaneers. He did say he can't wait to enjoy the news with his wife and son.
"Haven't even seen my son yet. He was sleeping when everything went down, but me and my wife couldn't sleep last night we were so happy. We manifested a lot of things, so to see things come to life and being able to live this dream is really special for us," Metellus said. "We've been here for four years, the goal is to be here my whole career. I love this organization, I love this state, we're excited to be here."