Vikings safety Cam Bynum earns NFC Defensive Player of the Week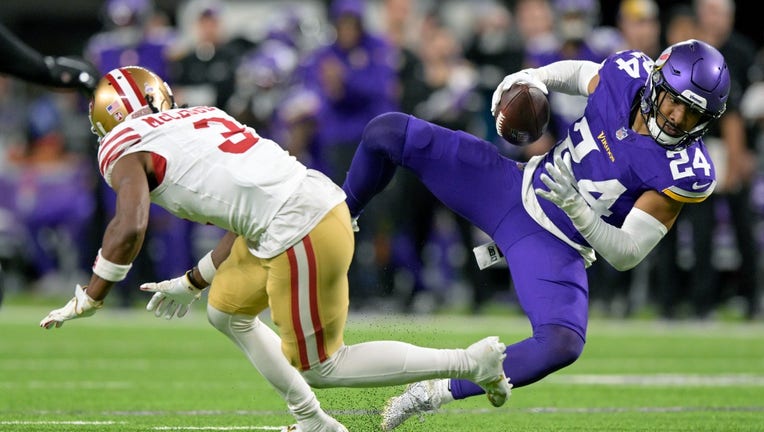 article
MINNEAPOLIS (FOX 9) - Cam Bynum was named the NFC Defensive Player of the Week on Wednesday after the Minnesota Vikings beat the San Francisco 49ers 22-17 on Monday Night Football at U.S. Bank Stadium.
Bynum led the Vikings' defense with nine tackles, and had two fourth quarter interceptions as Minnesota improved to 3-4 on the season after an 0-3 start. His second interception came with 34 seconds left in regulation, and sealed a Vikings' victory.
"Thought he had a huge football game and just continues to play very, very consistent and really took advantage of his opportunities leading us to winning the turnover battle," Vikings coach Kevin O'Connell said Wednesday at TCO Performance Center.
Bynum has started all seven games for the Vikings this season and leads the defense with 69 tackles, which also leads all defensive backs in the NFL. The Vikings also get a defensive honor for the second straight week, as Jordan Hicks got the honor after a 19-13 win over the Chicago Bears. It's the first time the Vikings have gotten the honor in consecutive weeks since 2015.
After the 49ers win, Bynum used his platform to reveal he's been in a two-year battle to get his wife a visa to travel to the U.S. Bynum is from the Philippines and lives there in the offseason. She's had two attempts at getting a travel visa denied.
"I miss her like crazy," Bynum said Wednesday at TCO Performance Center.
Efforts are ongoing to get his wife a spousal visa to travel to the U.S.